HOME

|

SHOP

|

LISTEN
Lurker of Chalice Tapes Out Now
Lurker of Chalice "Lurker of Chalice" MC
ANTI-GOTH 380
Lurker of Chalice by Lurker of Chalice
(Description by J. Campbell)
Like Leviathan, Lurker of Chalice is a project conceived of and executed by multi-instrumentalist and visual artist Jef Whitehead, who is generally referred to as Wrest in the context of his music. For nearly 20 years, through his work with Leviathan, Lurker of Chalice, and many other projects, Whitehead has consistently recorded and released music that has unquestionably left permanent scars on the face of the USBM scene. To call Lurker of Chalice a Leviathan side-project would be inaccurate. Though Leviathan is far more prolific and widely known, Wrest's recordings under the Lurker of Chalice banner are just as earnest and extraordinary. Indeed, to many, the Lurker of Chalice material represents the zenith of Wrest's vast and superb body of work. The self-titled Lurker of Chalice album, which came out in 2005, was the only widely circulated recording associated with the project, the two previous demos only being released in very limited quantities. The album garnered massive praise before swiftly going out of print, practically ensuring its stature as a cult masterpiece. It would be too simplistic to categorize this album as mere Black Metal because it sweeps so broadly across the musical spectrum; however, even when Wrest strays farthest from Black Metal in a stylistic sense, the sensations and emotions the music conjures are every bit as visceral. Born of true despair, the oppressive weight of anguish looms over the album. A genuine sense of oblivion permeates the atmosphere created by this collection of songs that, taken together, chart a course through the bleakest stations of the soul. Following a comparatively brief introductory track, the album opens with "Piercing Where They Might," one of two songs on the album that were featured on the "Lurker of Chalice" demo released in 2002. The song begins with what might be the brightest passage on the album, featuring delicate guitar work accentuated by the sounds of birds in the background—this proves to be the first and last glimpse of light the listener will have—before it abruptly shifts, plunging over the blackened horizon into ever more depressive regions. A warped repetitive riff of slow bending notes carries the momentum of the song, causing a temporal distortion as it's woven into the latticework of a steady blast beat moving four times faster—like the anxious constancy of one's breath over the percussive fervor of one's heartbeat. Only one other track, "Granite," which was also featured on the 2002 demo, can really be described as something like traditional Black Metal, with assertive drums like railroad tracks guiding the movement of the song beneath a canopy of guitars, synthesizers, and ethereal vocals. As the album progresses, its lonely and bruised meanderings persist through stylistic and compositional variations that maintain the album's allure—from the Funeral Doom aesthetics of "Minions" through the haunting echo chamber of despair evoked by "Paramnesia" to "This Blood Falls as Mortal Part III," which features a Sylvia Plath spoken word sample amid a melancholy interplay of Eno-esque sustained guitars and synthesizers, to the Neofolk evocations of "Vortex Chalice," before culminating with the sorrowful ardor of "Fastened to the Five Points." The album closes unceremoniously, leaving the listener fractured and depleted. At the time of its release, no other album sounded quite like this one, and it's no exaggeration to say that no comparable release has emerged in the last 12 years since "Lurker of Chalice"; the album truly occupies its own shade along the ever-expanding spectrum of Black Metal. NWN! is honored to present this new edition of "Lurker of Chalice," which will include the bonus track featured on previous vinyl editions of the album. Additionally, NWN! will be working with Wrest to unearth and remaster some previously unreleased Lurker of Chalice material for future releases.
Lurker of Chalice "Tellurian Slaked Furnace" MC
ANTI-GOTH 477
Tellurian Slaked Forest by Lurker of Chalice
(Description by J. Campbell)
Active from 2001-2005, the highly revered side project of Leviathan's Jef Whitehead, Lurker of Chalice, is mostly known for the 2005 self-titled full-length. Prior to that album, however, Wrest recorded two CD-R demos under the Lurker of Chalice name, each of which was limited to approximately 50 copies or less and sold at a single record store in San Francisco, near where he was living at the time. Like the full-length, both demos were eponymous, though the first demo was identified only by the initials "L.O.C." written in runes. While a few of the songs from the demo era bear indicia of black metal, the material from that period is generally far more experimental, defying any effort to be neatly categorized. For "Tellurian Slaked Furnace," Wrest has distilled the best material from the early period of the project and edited, collaged, and compiled it, weaving together something more coherent and album-like. In this way, there seems to be something of his current artistic sensibility projected onto these recordings from nearly two decades earlier. In keeping with the confusing taxonomy of the project, the tracks on this LP are unnamed. The album opens with a song previously called "Lurker of Chalice" on the 2002 demo but is untitled on this release. The song showcases the haunting minimalism of Lurker of Chalice as slow acoustic guitars revolve around one another, arpeggiated chords ringing out above percussive accents. With the second track, a more sinister energy emerges, advanced by the first and only appearance of Wrest's seething vocals. Over the full, 70-minute duration of this album, the music, almost completely instrumental, expands and contracts, evolves and disintegrates. Delicate ambient passages and labyrinthine excursions give way to electronic dirges of lumbering percussion with guitar shimmering transcendent above a melancholic lake of atmospheric sound and cascading sheets of electronics dissolving into lush acoustic melodies. Only very rarely do heavy riffs emerge; compared with Wrest's work in Leviathan, or even the Lurker of Chalice album, the metal elements are far less direct and overt. Instead, this album conjures a bleak, unsettling mood without resorting to the compositional trappings of black metal. The music, which strangely seems both intensely personal, yet also detached and cinematic, evokes a palpable sense of solitude—the disconsolate reckoning of the self in the absence of others. The release of "Tellurian Slaked Furnace" marks the first time any of the Lurker of Chalice demo recordings have been reissued and also offers a substantial amount of previously unheard material.
Click here to order.
Detonator "Demo 1990″ LP Coming Soon
Detonator "Demo 1990″ LP
ANTI-GOTH 508
From the town of Mezőkövesd, Hungary, arose Detonator. Spawned from the same black blood as Tormentor and Angel Reaper in 1986, the band's 1990 demo captures seven tracks of malicious Evil Metal in the Hungarian tradition. This LP edition also includes a rare interview and archival visuals from the era. Essential listening for fans of Tormentor, Bathory, and Kreator.
ETA: July-August 2020
Morbosidad "Corona de Epidemia" LS Back In Stock
Back in stock in all sizes.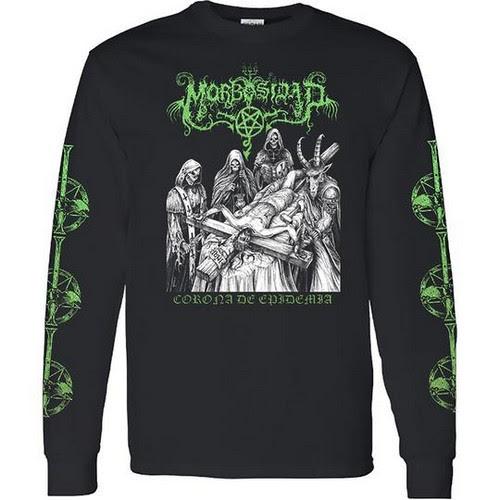 Sport this handsome long sleep while camping out in your house for the next 6.66 weeks or months. Is Tomas Stench a Mexican Nostradamus AKA Mextradamus?
Printed with metallic aqueous green and white discharge ink on Gildan brand long sleeves. Available in sizes Small to XXL while supply lasts. Printed by Inferno Screen Printing from NOLA so you can expect the best quality print possible.
Click here to order.
NWN "Sic Itur ad Astra" LS Back In Stock
Back in stock in all sizes.
"Sic Itur ad Astra" translates to "Such is the Pathway to the Stars."
Discharge white ink printing on Gildan brand long sleeves. Printed by Inferno Screen Printing so you can expect the highest quality print possible.
Click here to order.
Amputation "Slaughtered in the Arms of God" LP/CD/MC Coming Soon
Amputation "Slaughtered in the Arms of God" LP/CD/MC
ANTI-GOTH 505
Slaughtered in the Arms of God by Amputation
Amputation was a Norwegian deathrash band featuring Demonaz AKA Harald Naevdal of Immortal as well as Jørn Inge Tunsberg from Hades. This LP collects their two demos from 1990 and 1989, as well as a rehearsal from 1989. Recommended listening for fans of Schizophrenia era Sepultura, Old Funeral, and S/T LP era Master.
Tracks 1-2: "Slaughtered in the Arms of God" demo 1990
Tracks 3-6: "Achieve the Mutilation" demo 1989
Tracks 7-12: Rehearsal 1989
1989 Line up:
Harald Nævdal AKA Demonaz: Vocals, Guitars
Jørn Inge Tunsberg: Drums
Truls Kvernhusvik: Guitars
Padden: Bass
1990 Line up:
Harald Nævdal AKA Demonaz: Vocals, Guitars
Padden: Drums
Jørn Inge Tunsberg: Bass
Limited Die Hard version with bonus "Live Verftet Thrash Fest Sept 29-30 1989″ MLP.
ETA: Aug-Sept
NWN "Boot of Destiny" LS Out Now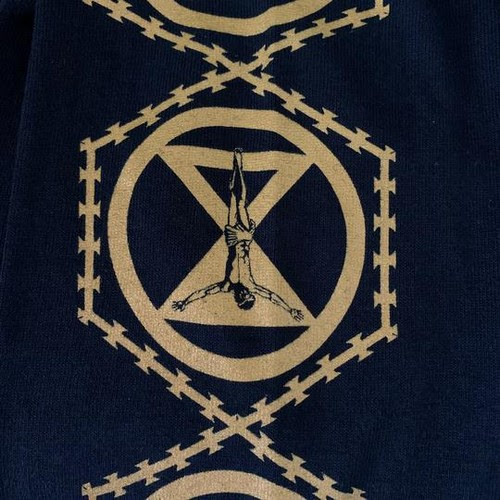 Updated design of a popular NWN shirt. Aqueous gold and discharge white ink on Gildan brand LS. 60′s propaganda art on the front and J. Read/Revenge quote on the back. New sleeve design. Available in sizes S to XXL while supply lasts. Printed by Inferno Screen Printing from NOLA.
Click here to order.
Debemur Morti Productions LPs In Stock Now
Archgoat "Black Mass XXX" Double LP


Behexen "My Soul For His Glory" LP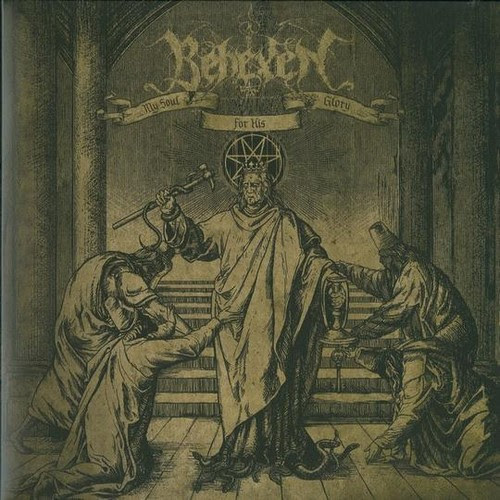 Behexen "By The Blessing Of Satan" LP


Behexen "The Poisonous Path" Double LP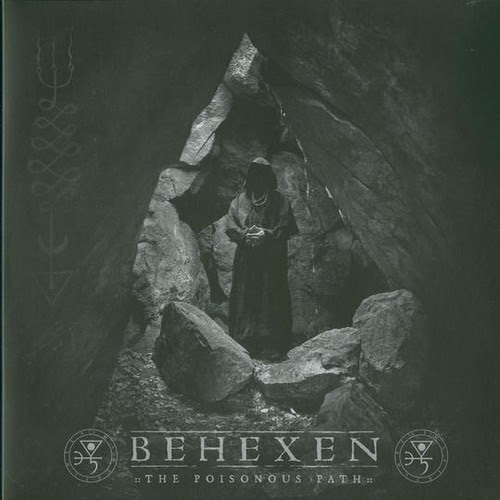 Limited units of Archgoat and Behexen LPs are now in stock from this long running, and highly respected French black metal label.
Click here to order.
Reencarnacion "Alucinogeno" LP Coming Soon
Reencarnacion "Alucinogeno" LP
ANTI-GOTH 507
Alucinogeno by Reencarnación
Released in 1989, "Alucinogeno" is the experimental, drug-infused, and maniacally thrashing second demo of cult ultra metal unit Reencarnacion. Along with Parabellum, Blasfemia, and Nemesis, the band had a heavy impact on the metal underground, and was championed by many across the globe, including Dead of Mayhem.
ETA: July-August
Herxheim "Incised Arrival" LP Coming Soon
Herxheim "Incised Arrival" LP
ANTI-GOTH 506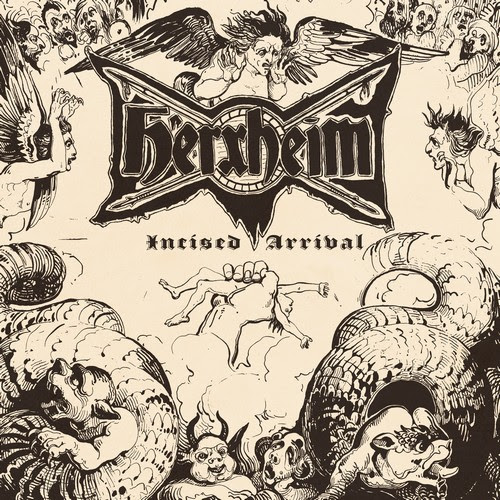 Incised Arrival by Herxheim
A direct descendant of the "Cultivating Throne of Fur" demo (2019), "Incised Arrival" unravels further into a heavier and more concise form of its near-relative. In this 37-minute display of gut-punching raw power, wicked melodies slither in and out of slow to mid-paced and faster compositions where nothing is forced or superfluous.
The sound of the album is quite natural, but wild; one foot rooted circa 86′-93′, the other hammers chest right to the present. The guitars scream and scratch machine-like, while Brungard offers a treacherous, powerful vocal performance. The howling resonance of keyboards combined with brutal drum and bass guitar play, gel into this single unit of hammered deliverance.
Lyrically, Brungard explains, "this album thematically follows the demo. It centers around the human condition, each song is a 'Mephistic Fable', tales of warning and wrath." The prowess and vigor of these 6 songs deliver the message well: this is indeed Mephistic Black Doom Metal for the wretched soul.
ETA: July-August
Godblood "Flowers" LP Coming Soon
Godblood "Flowers" LP
ANTI-GOTH 502
Flowers by Godblood
Background & Biography
• It is Nicosia, Cyprus, in 1994. Cyprus is an island in the Mediterranean with a long and diverse ancient history dating back 9000 years with a predominantly Greek-Cypriot population.
• Cyprus back in the 90s was a very conservative, Christian Orthodox society with a very powerful church with a persistent presence in Cypriot society. To some extent it still is.
• Godblood was formed in the winter of 1990 by Deceased but it wasn't until 1993 when Mephisto joined that they begun developing their own style and performing their first gigs.
• In 1994, their debut demo Flowers is released on the 14th of November. It was spread around through tape traders and mail-orders worldwide in a total of 666 copies, the first 200 of which sold in the first four months.
• In 1995, Godblood concentrated on live performances and in April they support Nightfall. On the 20th of May, the band support the Hellenic Metal Gods, Rotting Christ. After those appearances, cult underground label Molon Lave Records expressed interest in releasing a Godblood 7" EP, but the label dissolved before this could ever materialise. After these successful live appearances, the local Cypriot media attacked the band, with headlines referring to the bones Godblood used during concerts, their cover artwork featuring human skulls, and to their vocalist that was usually cutting himself onstage. Rumours of grave desecrations and other nefarious activities also persisted.
• In 1996, Godblood wrote new songs as the band further develops their style and in 1997 enter the studio to record "A Funeral" which is released as a 7" split EP with Macabre Omen through Daimonion Productions from Greece.
ETA: July-August