VAMPIRE RELEASE NEW SINGLE "SERAFIM"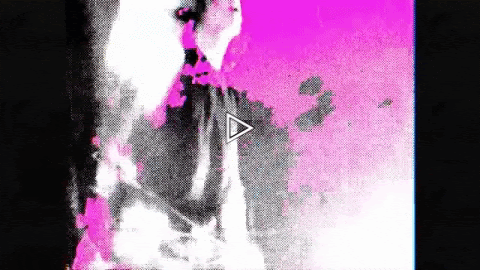 Vampire
release third single "Serafim" and lyric video from their upcoming album "Rex"!
Deep in a musty, age-old cellar of old town Gothenburg, VAMPIRE have been plotting something wicked…again! In 2020, frontman Hand of Doom, guitarists Black String and Sepulchral Condor, bassist Command, and drummer Abysmal Condor proudly present their third studio album, "Rex", which proves to be a tremendous sonic and compositional highlight in their career thus far. Today, the third sin
gle "Serafim" is released.
Hand of Doom says about the single:
"This was the first song title we had for the album, and its style lead the way for all the others and for the album title as well. However, these were the last lyrics to actually be penned. Inspiration struck unexpectedly one dreary October morning as I pondered the famous monologue at the end of the film Blade Runner: "I've seen things you people wouldn't believe". What follows is probably the best simile of all time. Hugely inspirational and obviously impossible to outdo."
The video is filmed and edited by David Aje Forsberg and can be viewed by clicking above!
Black String states:
""Serafim" is one of my faves on the "Rex" album. I'm especially honored that my old childhood friend David Forsberg (of Skogen Brinner fame) helped us out with the video for the song. He basically took his own Vampire footage from seven years ago and made a really disturbing "Serafim" video out of it."
The album "Rex" will be released on June 19th, 2020 as vinyl, limited edition CD digipak and on all digital platforms.
VAMPIRE RELEASE NEW VIDEO FOR "REX"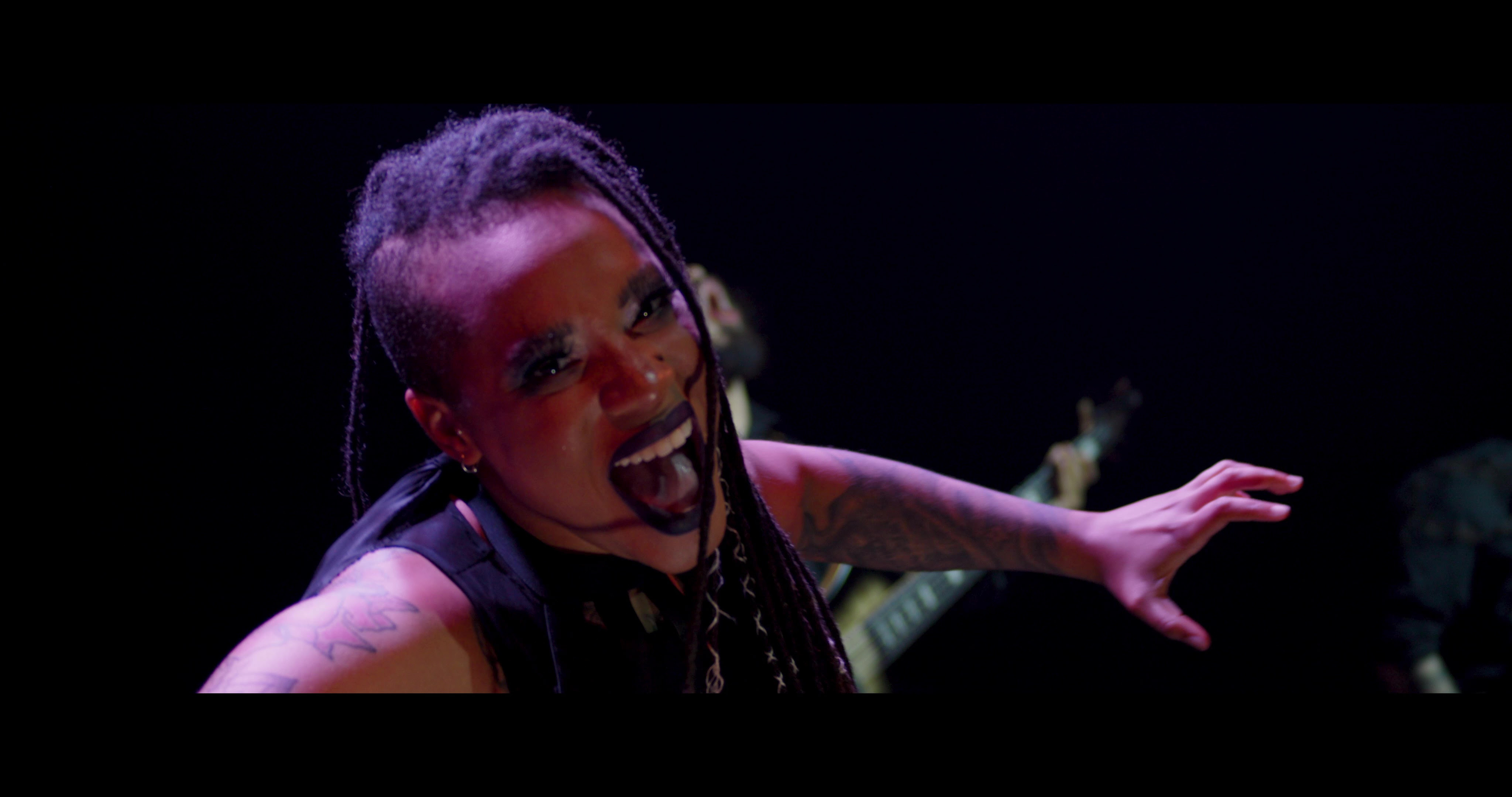 Oceans of Slumber
announce new self-titled album "Oceans Of Slumber"
Release first single & video "A Return To The Earth Below"
Pre-order started on Friday!
US prog metal outfit OCEANS OF SLUMBER announce the release of their new and self-titled album "Oceans Of Slumber", due to be released on September 4th, 2020, via Century Media Records worldwide. With "A Return To The Earth Below" the band releases the first single taken off of the new record. Vocalist Cammie Gilbert is checki
ng in with the following comment about the new song:
"Within ourselves, just as within our societies there are cycles that need to be broken. Cycles that hold us down, that tear us apart, that give us anguish. Sometimes without warning these cracks surface and they trigger a cascade of emotional vulnerabilities, emotional turmoil, even hopelessness. But at some point we must stop running. Stop running from the pain, stop running from the truth, stop running from ourselves. In the light of this self reflection is where we will find peace, both inwardly and outwardly. A Return To The Earth Below is about that journey. It is about the collision of the heart and mind in struggling to find that internal resolution. We feel that the timing of this single couldn't be more appropriate, as we have all found ourselves at the crossroads of change."
Watch the video for "A Return To The Earth Below" by clicking above
"Oceans Of Slumber" is available as Standard CD Jewelcase, Gatefold black 2LP+CD, Digital album and can be pre-ordered here:
"We'd like to thank Giannis Nakos for the beautiful artwork that captures not only our imagination, but the depths and darkness of the story the album holds within. While there's plenty more to come, we must be patient for the full album that's set to release September 4th. For now please enjoy A Return to the Earth Below." says Cammie Gilbert.
NIGHT DEMON RELEASE NEW SINGLE & 7" FOR "ARE YOU OUT THERE"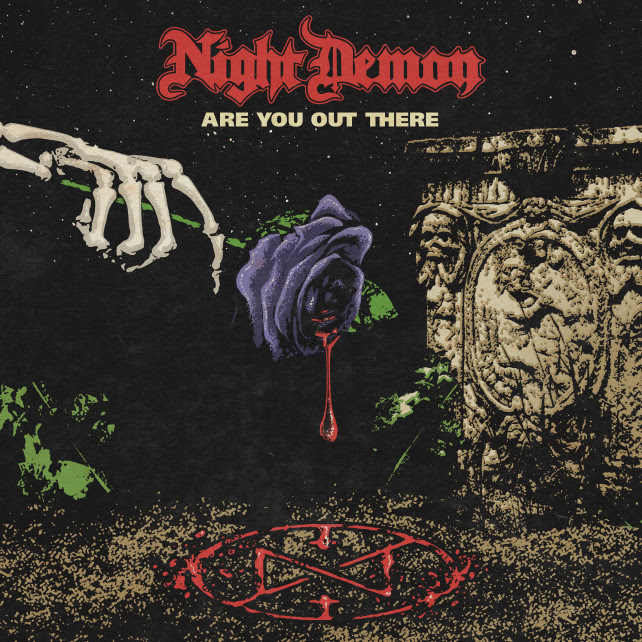 Night Demon
proudly announce the worldwide release of their new single "Are You Out There" which is the third single to be unveiled this year!
Check out the video by clicking above.
Order/listen by clicking the button below.
It is no secret that one of the band's greatest influences is Thin Lizzy. Indeed, Thin Lizzy's pioneering hard rock aesthetic is foundational to Night Demon, engrained in the band's collective musical DNA. With this single, they celebrate the priceless legacy of Thin Lizzy, paying tribute to the iconic Irish minstrels with a pair of songs, one original and one cover. "Are You Out There" is a rollicking, feel-good tune whose hooks, melodies, vibe, and spirit were all crafted in the vein of the Dublin masters, yet still filtered through Night Demon's signature sound. Even the subject matter of the song is related to Thin Lizzy, albeit with an autobiographical twist. Lyricist Jarvis Leatherby spins a cautionary tale about the final days of the legendary Phil Lynott, before his life was cut tragically short by drug and alcohol addiction. To be sure, "Are You Out There" may surprise longtime fans expecting a pummeling metal attack in the time-honored Night Demon tradition. But this song showcases a different side of the band, one that has always been present but perhaps obscured by the darkness and fury. Night Demon recorded "Are You Out There" at Electrical Audio in Chicago, under the watchful eye of famed rock producer Steve Albini. In keeping with the Thin Lizzy tribute theme, the B-side of Are You Out There is a suitably Demonized cover of the Lizzy classic "The Sun Goes Down." Initially, Night Demon's version adheres closely to the somber, moody feel of the original, only to explode into an urgent uptempo romp that indelibly etches Night Demon's mark on the song.