HOME

|

SHOP

|

LISTEN
Beherit "The Oath of Black Blood" LP/CD/MC + Merch Coming Soon
Beherit "The Oath of Black Blood" LP/CD/MC/Digital
ANTI-GOTH 500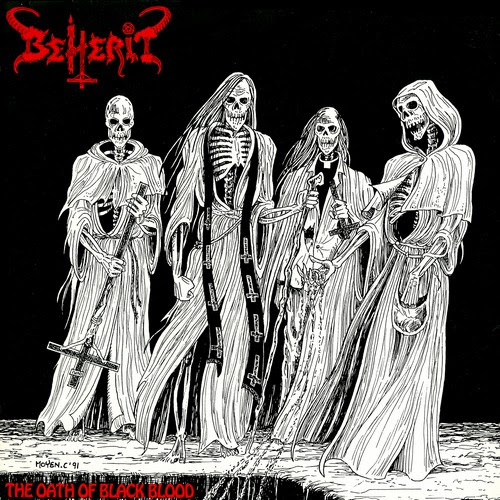 We are extremely honored and excited to be working with the mighty Beherit on a proper reissue of "The Oath of Black Blood" on all formats, including digital. It goes without saying that this album (actually a collection of demo and 7″) is one of the most important releases for many of us that worship at the altar of Bestial Black Metal. Along with "INRI", "Fallen Angel of Doom" and others, "The Oath of Black Blood" lay the groundwork for what eventually came to be known as Bestial Black Metal. We've also worked out a deal to make official merchandising around the same time so you can stop buying inferior bootlegs from shady dealers. Expect only high quality, fan based releases with lots of archival images and exclusive content!
No photoshopped artwork.
No digital manipulation.
No re-mastering.
ETA: Fall-Winter 2020
Proclamation Reissues Coming Soon
Nuclear War Now!/Ross Bay Cult is proud to announce the reissues of all four Proclamation albums on all formats!
Proclamation "Advent Of The Black Omen" LP/CD/MC
ANTI-GOTH 50 / COMMAND 001
Proclamation "Messiah Of Darkness And Impurity" LP/CD/MC
ANTI-GOTH 88 / COMMAND 002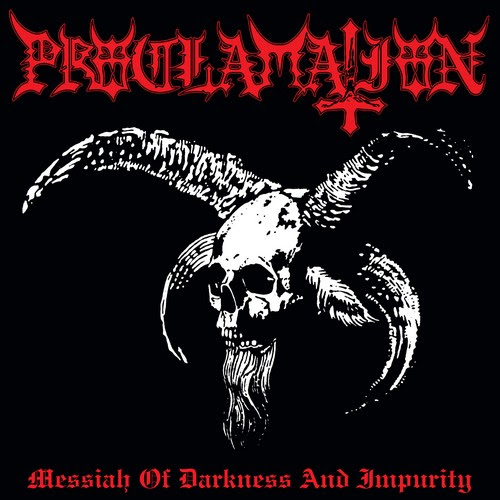 Proclamation "Execration Of Cruel Bestiality" LP/CD/MC
ANTI-GOTH 128 / COMMAND 003
Proclamation – Nether Tombs Of Abaddon" LP/CD/MC
ANTI-GOTH 209 / COMMAND 004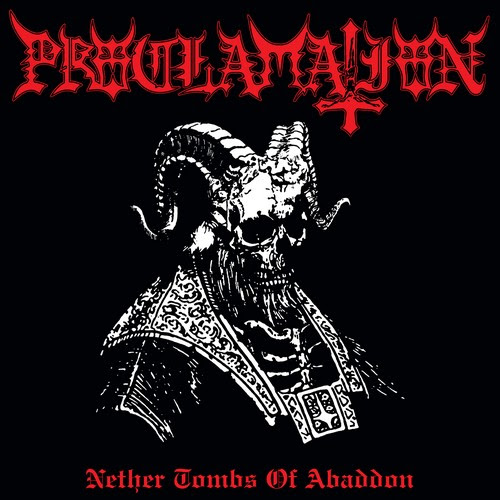 ETA: Sept-Oct 2020
Never Surrender Fest Vol. III Postponed Until Nov. 2021
It is our extreme disappointment to write in order to announce that the Never Surrender Fest originally scheduled for November 2020 in Berlin has been postponed until November 2021. The environment created by the COVID-19 pandemic, the resulting travel/social restrictions, and general uncertainty have forced us to decide that is not practical for us to continue planning for the fest this year. Although we understand and apologize for the significant inconvenience this will cause, we have worked to secure commitments from many of the same bands from the original lineup to perform the weekend of November 4th-6th, 2021. Unfortunately, Prosanctus Inferi had to be replaced with Abigail from Japan, however, all other bands are still confirmed to play in 2021. We hope you will also join us at this event! If you have already purchased a ticket, no action will be required on your part. That ticket will serve to admit you to Never Surrender 2021. If this is not at all possible for you, we can refund the ticket price if such a request is made within two month of this announcement. As you can imagine, making this decision now creates a significant setback for us, and therefore we only make it as a last resort. Again, please accept our sincerest regrets, and plan to join us in November 2021!
Yosuke and Patrick
Never Surrender Festival
Blasphamagoatachrist "Bastardizing the Purity" LP Out Now
Blasphamagoatachrist "Bastardizing the Purity" LP
ANTI-GOTH 485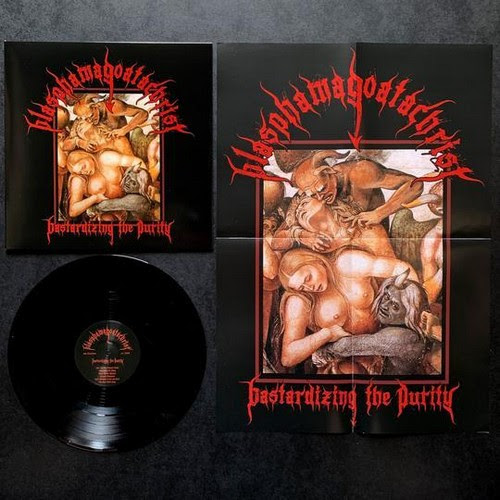 Bastardizing the Purity by Blasphamagoatachrist
(Description by C. Conrad)
In 2018, Blasphamagoatachrist was first summoned by the gods of war to continue the siege that its members had separately waged previously in such notorious hordes as Blasphemy, Goatpenis, and Antichrist (Can). With its debut demo, "Black Metal Warfare," the band laid to rest any skepticism that may have arisen prematurely in response to the thought of another black metal "supergroup" managing to bear the flame that its members' main projects had first lit decades earlier. Blasphamagoatachrist now triumphantly returns with its debut full-length, "Bastardizing the Purity," which further solidifies this cult as an entity of its own and one worthy of its members' collective pedigree. As the demo did two years earlier, "Bastardizing the Purity" serves as a present-day example of the ferocity with which early-to-mid 1990s bestial black metal emasculated the more impotent varieties of output demonstrated by most contemporaries. Each irreverent hymn is propelled by the combined tactical strikes of Sabbaoth (bass) and Tyrant Virrugus (guitars), while Incinerator of Lacerated Angels and Coffin Destruction (drums) carpet bombs the battlefield, and Nocturnal Grave Desecrator and Black Winds (vocals) commands the relentless annihilation from above. The final outcome of this eleven-track onslaught is one that establishes Blasphamagoatachrist independently above and beyond the list of pretenders to the throne of today's bestial black metal scene.
Regular Version: Black vinyl LP, gatefold jacket, and A2 poster.
Die Hard version: Red vinyl LP, gatefold jacket, A2 poster and 12″ woven back patch.
Also available on Tape and CD.
Click here to order.
Antichrist "Sacrament of Blood" LP Out Now
Antichrist "Sacrament of Blood" LP
ANTI-GOTH 193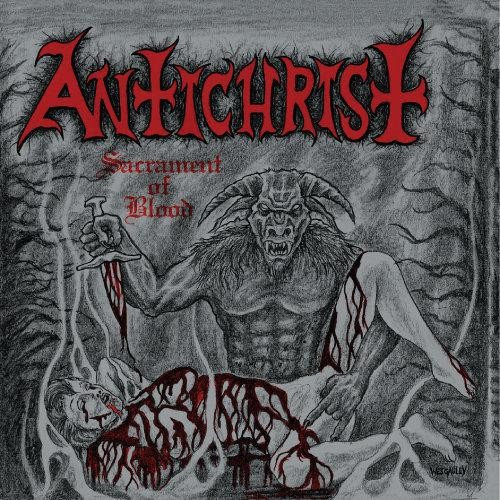 Sacrament of Blood by Antichrist
Limited repress of 250 copies with 3mm jacket and 12″ insert. All on black vinyl.
(Description by J. Campbell)
In an era in which even the most obscure demos are readily available for electronic acquisition within minutes, the likelihood of finding untapped reservoirs of brutality in underground metal is almost unheard of. Digging beneath the rubble of Ross Bay, NWN! and RBC has recently unearthed such a lost stream of malevolence. The story of ANTICHRIST begins with the merging of The Festering Arsonist on guitars and The Inciter of Armageddon on drums. At the age of just 15, these hooded demons provoked the retribution of Christ in the name of unholy dominion. Influenced by the Death Metal, Speed Metal, and Grindcore of the late 1980's, they recorded a demo under the name Armageddon. In the early 1990's an additional guitarist by the name of Rotting Corpse was indoctrinated into this cult, and shortly thereafter vocalist Goat Fucker and bassist The Unknown One were likewise initiated. In addition to their exposure to the well known international bands of that time period, these stalkers of the Ross Bay burial grounds were also uniquely influenced by local bands such as Procreation, Witches Hammer, Fatal Hatred, Caustic Thought, and, of course, Blasphemy. Indeed, it is ANTICHRIST's connection with Blasphemy that is most apparent in their sound. While ANTICHRIST's focused initially on creating disturbing and dark Death Metal, they began to gravitate toward the pure desecration of Black Metal. This was, to a large degree, due to ANTICHRIST sharing a rehearsal space with Blasphemy. In fact, it was Nocturnal Grave Desecrator and Black Winds who invoked the name ANTICHRIST for the band. (The Festering Arsonist even accompanied Blasphemy on their Fuck Christ tour in 1993.) ANTICHRIST never sought widespread attention for their demonic arts, preferring, instead, to remain in the cold catacombs of Ross Bay. Over the next four years, ANTICHRIST played only less than ten shows and entered the studio just once. In 1994, ANTICHRIST summoned its first and only recording. Consisting of 11 tracks of blasphemic annihilation, the "Sacrament of Blood" session epitomizes the horrific and unholy nature of the Ross Bay cult. Chaotic and impure and driven by uncontrollable bestial voices, ANTICHRIST unleashed some of the vilest and Black Metal North America has produced. Until 2011, however, few souls have had the extreme misfortune of being subjected to this depraved onslaught because the members of ANTICHRIST went their separate ways shortly after these tracks were committed to DAT. Years later, with the support of Blasphemy's Deathlord, Goat Fucker and Rotting Corpse exhumed the original DAT tapes and prepared them for their first official release. NWN! and Ross Bay Cult are now proud to offer these recordings for the first time.
Click here to order.
Lucifer's Hammer "The Burning Church" LP Coming Soon
Lucifer's Hammer "The Burning Church" LP
ANTI-GOTH 509
Lucifer's Hammer was a US black death metal band, active from 1986 until 2004. Part of the Michigan metal underground, they shared members with Masochist and Summon. This LP resurrects the monument to evil that is "The Burning Church" Demo from 1994. For fans of early Absu, Masochist, and Summon.
ETA: August 2020
Lurker of Chalice Tapes Out Now
Lurker of Chalice "Lurker of Chalice" MC
ANTI-GOTH 380
Lurker of Chalice by Lurker of Chalice
(Description by J. Campbell)
Like Leviathan, Lurker of Chalice is a project conceived of and executed by multi-instrumentalist and visual artist Jef Whitehead, who is generally referred to as Wrest in the context of his music. For nearly 20 years, through his work with Leviathan, Lurker of Chalice, and many other projects, Whitehead has consistently recorded and released music that has unquestionably left permanent scars on the face of the USBM scene. To call Lurker of Chalice a Leviathan side-project would be inaccurate. Though Leviathan is far more prolific and widely known, Wrest's recordings under the Lurker of Chalice banner are just as earnest and extraordinary. Indeed, to many, the Lurker of Chalice material represents the zenith of Wrest's vast and superb body of work. The self-titled Lurker of Chalice album, which came out in 2005, was the only widely circulated recording associated with the project, the two previous demos only being released in very limited quantities. The album garnered massive praise before swiftly going out of print, practically ensuring its stature as a cult masterpiece. It would be too simplistic to categorize this album as mere Black Metal because it sweeps so broadly across the musical spectrum; however, even when Wrest strays farthest from Black Metal in a stylistic sense, the sensations and emotions the music conjures are every bit as visceral. Born of true despair, the oppressive weight of anguish looms over the album. A genuine sense of oblivion permeates the atmosphere created by this collection of songs that, taken together, chart a course through the bleakest stations of the soul. Following a comparatively brief introductory track, the album opens with "Piercing Where They Might," one of two songs on the album that were featured on the "Lurker of Chalice" demo released in 2002. The song begins with what might be the brightest passage on the album, featuring delicate guitar work accentuated by the sounds of birds in the background—this proves to be the first and last glimpse of light the listener will have—before it abruptly shifts, plunging over the blackened horizon into ever more depressive regions. A warped repetitive riff of slow bending notes carries the momentum of the song, causing a temporal distortion as it's woven into the latticework of a steady blast beat moving four times faster—like the anxious constancy of one's breath over the percussive fervor of one's heartbeat. Only one other track, "Granite," which was also featured on the 2002 demo, can really be described as something like traditional Black Metal, with assertive drums like railroad tracks guiding the movement of the song beneath a canopy of guitars, synthesizers, and ethereal vocals. As the album progresses, its lonely and bruised meanderings persist through stylistic and compositional variations that maintain the album's allure—from the Funeral Doom aesthetics of "Minions" through the haunting echo chamber of despair evoked by "Paramnesia" to "This Blood Falls as Mortal Part III," which features a Sylvia Plath spoken word sample amid a melancholy interplay of Eno-esque sustained guitars and synthesizers, to the Neofolk evocations of "Vortex Chalice," before culminating with the sorrowful ardor of "Fastened to the Five Points." The album closes unceremoniously, leaving the listener fractured and depleted. At the time of its release, no other album sounded quite like this one, and it's no exaggeration to say that no comparable release has emerged in the last 12 years since "Lurker of Chalice"; the album truly occupies its own shade along the ever-expanding spectrum of Black Metal. NWN! is honored to present this new edition of "Lurker of Chalice," which will include the bonus track featured on previous vinyl editions of the album. Additionally, NWN! will be working with Wrest to unearth and remaster some previously unreleased Lurker of Chalice material for future releases.
Lurker of Chalice "Tellurian Slaked Furnace" MC
ANTI-GOTH 477
Tellurian Slaked Forest by Lurker of Chalice
(Description by J. Campbell)
Active from 2001-2005, the highly revered side project of Leviathan's Jef Whitehead, Lurker of Chalice, is mostly known for the 2005 self-titled full-length. Prior to that album, however, Wrest recorded two CD-R demos under the Lurker of Chalice name, each of which was limited to approximately 50 copies or less and sold at a single record store in San Francisco, near where he was living at the time. Like the full-length, both demos were eponymous, though the first demo was identified only by the initials "L.O.C." written in runes. While a few of the songs from the demo era bear indicia of black metal, the material from that period is generally far more experimental, defying any effort to be neatly categorized. For "Tellurian Slaked Furnace," Wrest has distilled the best material from the early period of the project and edited, collaged, and compiled it, weaving together something more coherent and album-like. In this way, there seems to be something of his current artistic sensibility projected onto these recordings from nearly two decades earlier. In keeping with the confusing taxonomy of the project, the tracks on this LP are unnamed. The album opens with a song previously called "Lurker of Chalice" on the 2002 demo but is untitled on this release. The song showcases the haunting minimalism of Lurker of Chalice as slow acoustic guitars revolve around one another, arpeggiated chords ringing out above percussive accents. With the second track, a more sinister energy emerges, advanced by the first and only appearance of Wrest's seething vocals. Over the full, 70-minute duration of this album, the music, almost completely instrumental, expands and contracts, evolves and disintegrates. Delicate ambient passages and labyrinthine excursions give way to electronic dirges of lumbering percussion with guitar shimmering transcendent above a melancholic lake of atmospheric sound and cascading sheets of electronics dissolving into lush acoustic melodies. Only very rarely do heavy riffs emerge; compared with Wrest's work in Leviathan, or even the Lurker of Chalice album, the metal elements are far less direct and overt. Instead, this album conjures a bleak, unsettling mood without resorting to the compositional trappings of black metal. The music, which strangely seems both intensely personal, yet also detached and cinematic, evokes a palpable sense of solitude—the disconsolate reckoning of the self in the absence of others. The release of "Tellurian Slaked Furnace" marks the first time any of the Lurker of Chalice demo recordings have been reissued and also offers a substantial amount of previously unheard material.
Click here to order.
Detonator "Demo 1990″ LP Coming Soon
Detonator "Demo 1990″ LP
ANTI-GOTH 508
Demo 1990 by Detonator
From the town of Mezőkövesd, Hungary, arose Detonator. Spawned from the same black blood as Tormentor and Angel Reaper in 1986, the band's 1990 demo captures seven tracks of malicious Evil Metal in the Hungarian tradition. This LP edition also includes a rare interview and archival visuals from the era. Essential listening for fans of Tormentor, Bathory, and Kreator.
ETA: July-August 2020
Morbosidad "Corona de Epidemia" LS Back In Stock
Back in stock in all sizes.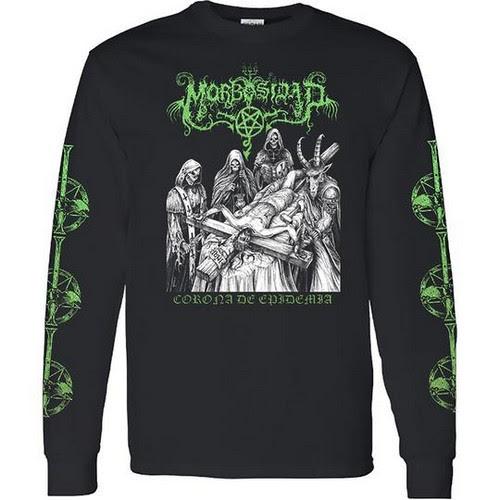 Sport this handsome long sleep while camping out in your house for the next 6.66 weeks or months. Is Tomas Stench a Mexican Nostradamus AKA Mextradamus?
Printed with metallic aqueous green and white discharge ink on Gildan brand long sleeves. Available in sizes Small to XXL while supply lasts. Printed by Inferno Screen Printing from NOLA so you can expect the best quality print possible.
Click here to order.