HOME

|

SHOP

|

LISTEN
Witches Hammer TS and LS Out Now
Witches Hammer "Gladiator" TS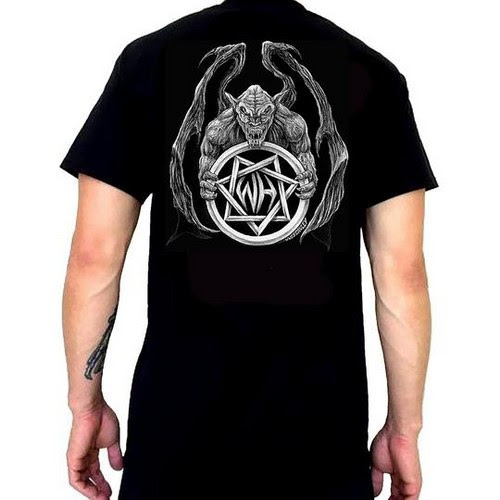 Metallic silver and discharge white printing on both sides. Available in sizes Small to XXL while supply lasts. Printed by Inferno Screen Printing from NOLA.
Witches Hammer "Damnation is My Salvation" LS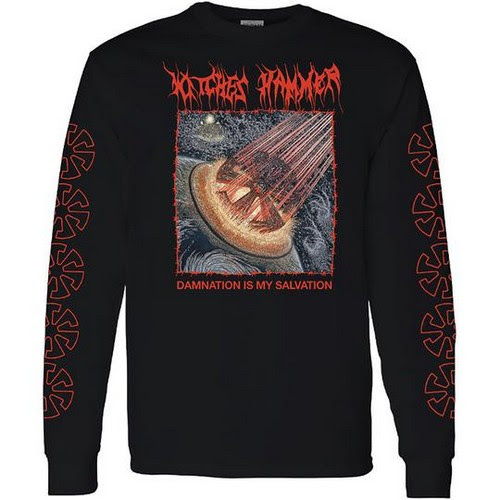 Full color aqueous ink printing on all sides. Available in sizes Small to XXL while supply lasts. Printed by Inferno Screen Printing from NOLA.
Some people are very uninformed about the origin of the symbol on the shirt so I copied and posted this from a fan page about Banzai Records:
https://banzai-records.jimdofree.com/speed-metal/
SPEED METAL SWIRL
The speed metal swirl logo on the sleeve of the more aggressive releases, was a Michel Meese marketing idea. Put together by in-house Polygram graphic artist Gunther Woschank, and added mostly to the front cover, sometimes the back, or other times both! It seems that the swirl was actually made of an existing design with the words Speed Metal added. A similar symbol was found on a Shediac, New Brunswick phone book vinyl cover dating from 1976. There are 18 Banzai releases that bear the logo. A wide spead belief is that since 6+6+6=18, it would be the reason why it stopped at 18. It remains to be verified! What is certain, is that many collectors are actively seeking the canadian "speed metal swirl" versions of these albums, making them most of the harder to find Banzai releases.
By today's standards, those albums would be in different classifications of thrash, cross-over, black and even death metal. It is also not known why a band like Destruction, whose sound was the same on all 3 of their Banzai releases, only had the speed metal swirl on the first 2! Same for Iron Angel and Celtic Frost.
The swirl can also be found on a Celtic Frost bootleg "A Night in the Dark". It was either stolen or borrowed, but it hasn't got anything to do with Banzai.
Many new obscure releases also embrace the swirl. It can be found on several releases by Nuclear War Now Productions, from bands like Blasphemy and Witches Hammer.
Click here to order.
Varathron "His Majesty at the Swamp" LP 2nd Press Out Now
Varathron "His Majesty at the Swamp" LP
ANTI-GOTH 478 / DOG001
NWN! / Order of the Blood Dog split release. 2nd pressing on sage green vinyl.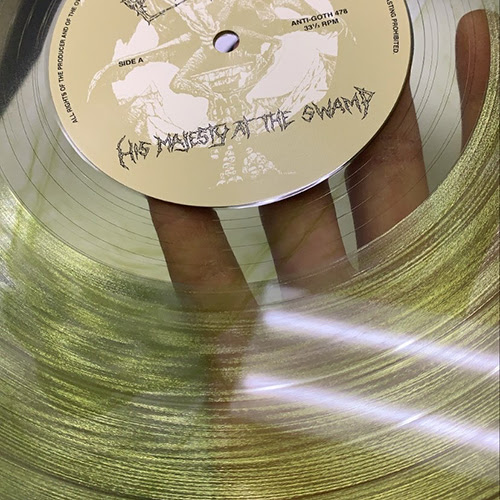 His Majesty at the Swamp by Varathron
(Description by J. Campbell)
There are few styles in metal so uniquely tethered to a particular place and time as that produced by a handful of Greek Black Metal bands in the early 1990s. Without question, the unholy trinity of this scene was composed of Rotting Christ, Necromantia, and Varathron. These three bands produced the most significant recordings in the canon of Greek Black Metal, and, to many fans and followers of the scene, Varathron's 1993 debut LP, "His Majesty at the Swamp" represents the apex of the sound and spirit of Hellas' contribution to the Black Metal genre. All of the representative traits of the style find their expression on this album – sonorous and melancholic guitars, the rich, occult atmosphere, ecstatic vocals, imbued with sinister intent, funereal keyboard flourishes, the bleak dampness of the production, the conjuration of a sense of abject solitude, and the somber pace of the tracks – aligned in perfect resonance with the pulse of Greek Black Metal. Having gone in and out of print several times through the years on various formats and in varying degrees of quality, band leader and original member, Necroabyssious, decided to issue a definitive version of "His Majesty at the Swamp" on his own label, Order of the Blood Dog. This version retains the mix and mastering that appeared on the original pressing of the album, but which was altered on some subsequent pressings, features all of the original artwork, and includes the lyrics as well as the original thanks list and credits.
Click here to order.
Barathrum "Hailstorm" Double LP/TS/LS Out Now
Invoked in Conspiracy with Heidens Hart:
Barathrum "Hailstorm" Double LP
ANTI-GOTH 493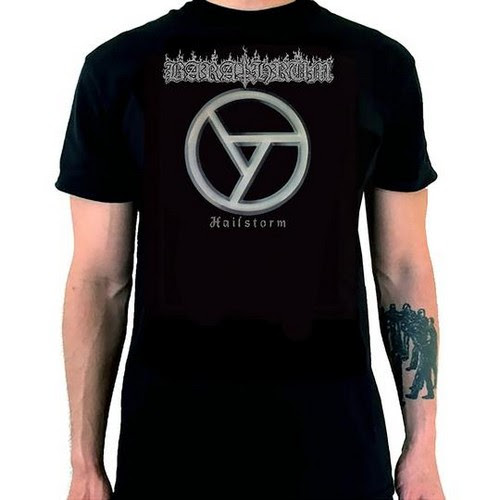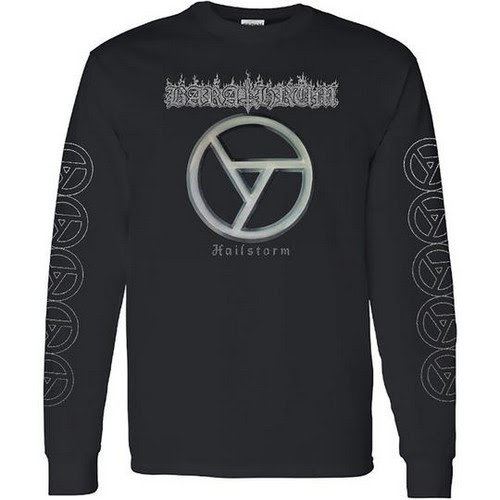 Back print is the same on the LS.
Hailstorm by Barathrum
(Description by J. Campbell)
Formed by Demonos Sova in 1990, Barathrum has long established itself as a pillar of the second wave of black metal and a progenitor of the Finnish sound, along with their peers Beherit and Impaled Nazarene. Between 1991 and 1995, Barathrum released a succession of demos, all of which were good, but clearly showed a band still in the process of self-discovery. It was with the 1995 debut full-length, "Hailstorm"—released on the legendary Nazgul's Eyrie label—that Barathrum carved out a truly unique space. On "Hailstorm," Sova dispensed with the usual guitar-driven composition, and instead used a dual bass performance to channel a gloomier subterranean sound. The immense weight and inertia of the distorted basslines, at once percussive and melodic, carry the mid-paced riffs, elongated and stretched to their limits. The songs are repetitious and hypnotic; the performance is brooding and severe. The production is equally esoteric, defying all convention. The use of six-string guitars is minimal and mixed low, offering little more than texture, capsized in the icy depths of the low-end instrumentation. Sova's snarling, reverb-laden vocal rasps cut through the dense low-end body of the music, summoning and praising the jetblack darkness and all that which is vile and profane. By pushing the bass to the forefront, "Hailstorm" invites comparisons to Necromantia, but its spacious immensity and authoritative plodding power places it in a category unto itself, like a black metal rendering of Swans' "Filth" album. The sigil adorning the cover of the album, the Seal of the Abyss, is the sign of Barathrum and appears on all subsequent releases. It is the symbolic representation of the band, the yawning darkness of the infinite chasm. 25 years after its initial release, this reissue marks the first vinyl edition of this classic recording.
Click here to order.
Barathrum / Wrok "Disciples of Filth" 7″ In Stock Now
Released by Heidens Hart and distribution by Nuclear War Now!
Barathrum vomits two tracks, most reminiscent of their sound during "Legions of Perkele" era but a bit more primitive. The classic, trademark old Barathrum sound is here, with heavy bassguitars and of course maniacal vocals. Both tracks were recorded and mixed within one day.
Wrok pollutes with one lengthy and filthy piece that brings to mind the traditional sound of the Dutch black metal scene of the 90s, as if time stood still. Pure hysterical and extreme black/doom in the vein of Malefic Oath, Bestial Summoning and Necro Schizma.
- Three exclusive and new songs written and recorded especially for this split
- 100 gold vinyl (NWN! exclusive)
- Manufactured in Germany.
Click here to order.
Witches Hammer "Damnation Is My Salvation" LP
LP version is finally here! CD and Tape editions are still available.
Witches Hammer "Damnation Is My Salvation" LP/CD/MC
ANTI-GOTH 487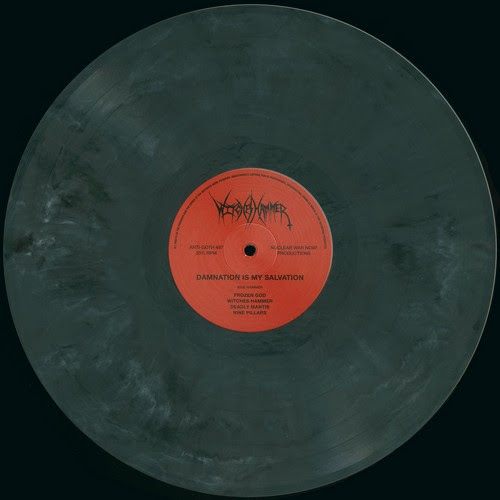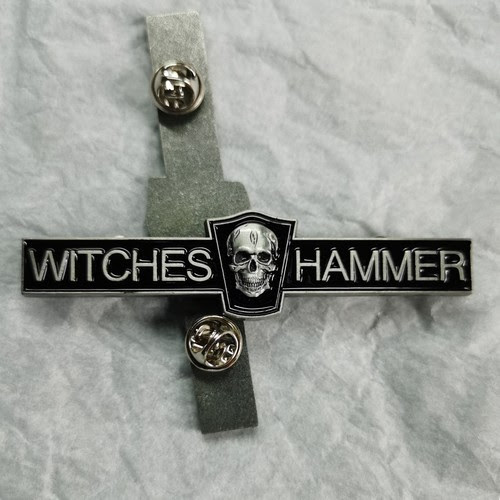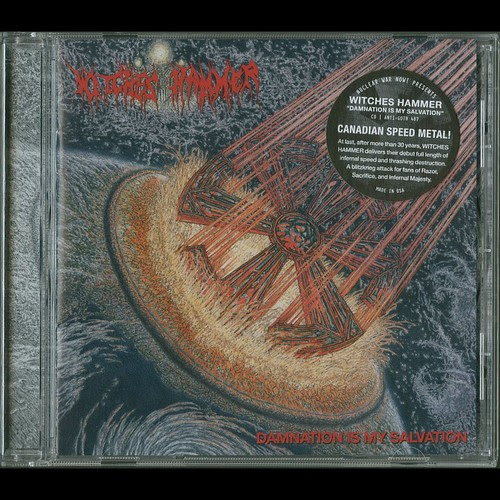 Damnation Is My Salvation by Witches Hammer
(Description by J. Campbell)
Although they only released a few demos and a 12" EP during the band's original active period (1984-1990), Witches Hammer occupies a prominent place among the pantheon of Canadian Speed Metal masters. The original lineup featured guitarist Marco Banco, who was just 15 years old when the band recorded its first demo, vocalist Rayy Crude, bassist Steve "Naïve" Withrow, and on drums, Rayy's brother, the late John Prizmic. Witches Hammer's name may not have been widely known during the band's existence, but they were a crucial piece of the Vancouver extreme metal scene, most notably through their influence on the members of Blasphemy. (Banco would, of course, later play guitar for Blasphemy on the legendary "Fallen Angel of Doom" album.) In the early 2000s, NWN! worked with Banco to re-release Witches Hammer's demos and s/t EP, as well as the previously unreleased MLP the band recorded in 1988. Indeed, NWN!'s relationship with Witches Hammer is one of the longest-running associations the label has established through the years. In 2018, Banco and Crude decided it was time to revive the band and assembled a new lineup capable of delivering the blistering, sinister speed metal for which Witches Hammer is known. Their appearance that same year at the first installment of the Never Surrender fest in Berlin exceeded all expectations, proving that their reemergence was consistent with the band's legacy without being a sterile imitation of their prior catalog. The response to the recent Witches Hammer live performances has been uniformly positive, further reinforcing Banco's and Crude's resolve to press forward. The result of this effort is the astonishing "Damnation Is My Salvation" album. The current band's sound is a perfect extrapolation of the earlier recordings. Witches Hammer delivers the same primitive, evil thrash but slightly blackened and more technical, tastefully reflecting the unavoidable influence of the musical developments during the intervening years, achieving a sound reminiscent of bands like Ares Kingdom and Destroyer 666. Three songs on "Damnation Is My Salvation" are re-recorded versions of classic tracks from earlier releases; "Frozen God," "Deadly Mantis," and the eponymous, "Witches Hammer" all originally appeared on the band's demos, but are now revived and repurposed for this new lineup. The other tracks, all newly written and recorded, are masterful. Directed by Banco's virtuosic guitar work, Witches Hammer deliver a searing frenzy of wretched riffs, frenetic bass, and relentless percussion, perfectly complemented by the barbed rasps of Crude's menacing vocals. Few bands, if any, have reformed after decades of inactivity to produce such a powerful addition to an already tremendous catalog. With this album, Witches Hammer both reinforces and builds upon its significant legacy.
-Regular Version: Black vinyl LP, 3mm jacket, and 12″ insert.
-Die Hard version: Gray/white marble vinyl LP, 3mm jacket, 12″ insert, and die cast metal pin.
Click here to order.
Cemetery Lights "The Church on the Island" LP
Cemetery Lights "The Church on the Island" LP
ANTI-GOTH 412
The Church on the Island by Cemetery Lights
Relying upon the same formula of ancient occult black metal as espoused in the first demo, Cemetery Lights draws comparisons with the likes of the legendary Mortuary Drape in its style and execution. Comprised of six tracks of necromantic delirium, "The Church on the Island" corrupts the pious and sows seeds of doubt in the faithful. Limited vinyl pressing of 250 copies on black vinyl with 3mm jacket and 12″ insert.
Click here to order.
Armagedda "Svindeldjup Ättestup" LP In Stock Now
Released by Nordvis and exclusively distributed by NWN!
Armagedda "Svindeldjup Ättestup" LP
Svindeldjup Ättestup by Armagedda
And so it was told that in the seventeenth year, things that were thought to be dead begun to stir again in the earth, as if awoken by the stench of man-fear penetrating deep beyond the reach of sunlight. Reanimated by some nameless and cursed source of vitality they say it has begun pouring and trickling from the dark crevices of the North, like an ancient curse into the veins of the world. And with the same fearful fascination that we behold something full of life being robbed of it's vitality and pulse, we shall now bear witness to that which ought to be forever dead but by unnatural impulse and eager invocation is again given life, to haunt and to stalk the night of the world.
CD version is currently sold out but more copies are on their way.
Digital is available from Nordvis and Armagedda's bandcamp pages.
Click here to order.
Beherit "The Oath of Black Blood" LP/CD/MC + Merch Coming Soon
Beherit "The Oath of Black Blood" LP/CD/MC/Digital
ANTI-GOTH 500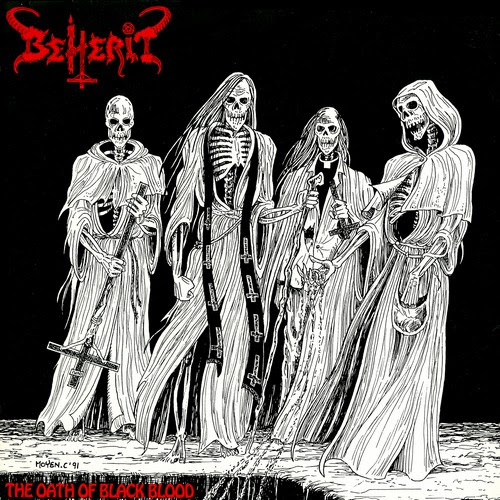 Through the years, NWN! has had the honor of releasing some of the most significant works in the canon of Bestial Black Metal. One band that NWN! has never before had the opportunity to work with is the incomparable Beherit. At last, that has changed. NWN! will soon be releasing the seminal compilation "The Oath of Black Blood." Originally released in 1991 by Turbo Music, the album collects Beherit's "Demonomancy" demo and "Dawn of Satan's Millenium" picture 7", both of which had been originally released in 1990. This edition on NWN! therefore commemorates 30 years of grave desecration and goat worship. Expected for release in late 2020.
No photoshopped artwork.
No digital manipulation.
No re-mastering.
ETA: Fall-Winter 2020
Proclamation Reissues Coming Soon
Nuclear War Now!/Ross Bay Cult is proud to announce the reissues of all four Proclamation albums on all formats!
Proclamation "Advent Of The Black Omen" LP/CD/MC
ANTI-GOTH 50 / COMMAND 001
Proclamation "Messiah Of Darkness And Impurity" LP/CD/MC
ANTI-GOTH 88 / COMMAND 002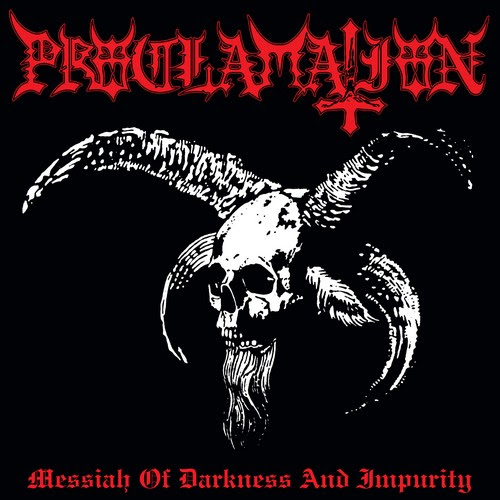 Proclamation "Execration Of Cruel Bestiality" LP/CD/MC
ANTI-GOTH 128 / COMMAND 003
Proclamation – Nether Tombs Of Abaddon" LP/CD/MC
ANTI-GOTH 209 / COMMAND 004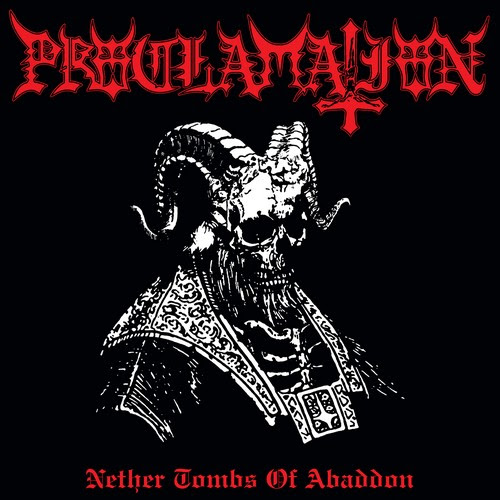 ETA: Sept-Oct 2020
Never Surrender Fest Vol. III Postponed Until Nov. 2021
It is our extreme disappointment to write in order to announce that the Never Surrender Fest originally scheduled for November 2020 in Berlin has been postponed until November 2021. The environment created by the COVID-19 pandemic, the resulting travel/social restrictions, and general uncertainty have forced us to decide that is not practical for us to continue planning for the fest this year. Although we understand and apologize for the significant inconvenience this will cause, we have worked to secure commitments from many of the same bands from the original lineup to perform the weekend of November 4th-6th, 2021. Unfortunately, Prosanctus Inferi had to be replaced with Abigail from Japan, however, all other bands are still confirmed to play in 2021. We hope you will also join us at this event! If you have already purchased a ticket, no action will be required on your part. That ticket will serve to admit you to Never Surrender 2021. If this is not at all possible for you, we can refund the ticket price if such a request is made within two month of this announcement. As you can imagine, making this decision now creates a significant setback for us, and therefore we only make it as a last resort. Again, please accept our sincerest regrets, and plan to join us in November 2021!
Yosuke and Patrick
Never Surrender Festival
NEVER SURRENDER FEST VOL. III
November 4-6, 2021
Columbia Theater
Berlin, Germany
Facebook
Tickets