Subterraen (France) - Rotten Human Kingdom (Blackened Sludge/Doom Metal)
Genre - Blackened Sludge​/​Doom Metal
Release Date - November 20th, 2020
Record Label - Transcending Obscurity Records
For fans of - Eremit, Jupiterian, Lurk, Eyehategod, Neurosis, 71TonMan, Conan, Primitive Man
French sludge/doom metal band Subterraen carry the torch of the style on the label, following the ponderous steps of the giants
Eremit
and
Jupiterian
. In comparison however, they add their own blackened grit and weighed down heaviness to the proceedings, crafting 10+ minute songs narrating epic, anguish-ridden tales of the slow destruction of the planet and sowing seeds of the inexorable vengeance of mother nature. The emotions are palpable not only in the harrowing cries of the vocalist but also from the palpitating, heaving music that functions as the body of this ancient beast. There is an honest rawness to it all and a dank, earthly vibe that resonates with the sandalwood fragrance emanating from the physical products, with a wooden, coffin-shaped box to go with it. From ashes to ashes, from dust to dust.

Artwork by Adam Burke (Lurk, Coexistence, Atræ Bilis)
These are high quality hoodies that come with a metal zipper. There's a full colour print on the back and also prints on both the sleeves, with an elegant logo adorning the front. The artwork is by none other than Adam Burke and the design looks spectacular.
The Subterraen digipak version comes in a premium 8-panel packaging with a standard metallic effect, plus a golden UV embossing done on parts of the artwork and layout. The digipak has also been enriched with the earthy scent of sandalwood, making it a fantastic product overall!



The fantastic Adam Burke artwork is printed on high quality soft and thick cotton long sleeve T-shirts having prints on both the sleeves. These are limited and you don't want to miss out on them!
Official Store
|
Subterraen Bandcamp
GIRLIES -
We've also announced girlies which we're very proud of as since years we've been asked for them. Now finally my better half can stop threatening me. The prints are just as good and pretty large too. They look better than the mockups here which are just for reference -


NEW RELEASE PRE-ORDERS -
MRTVI (UK/Serbia) - Omniscient Hallucinatory Delusion
Genre - Experimental Black Metal
Release Date - November 6, 2020
Record Label - Transcending Obscurity Records
For fans of - Imperial Triumphant, Veilburner, Gnaw Their Tongues, Norse, Plasmodium, Deathspell Omega, Satyricon
MRTVI
from UK/Serbia shocked audiences around the world with their previous album 'Negative Atonal Dissonance' which was a surreal experience in black metal experimentation and improvisation. It was almost subconsciously executed with three mammoth tracks blending noise, ambient and black metal music. On their follow up album, MRTVI have concocted shorter songs segregated in four chapters, with the underlying purpose of infiltrating your thought waves and inseminating harrowing sounds that will alter your consciousness. Listening to 'Omniscient Hallucinatory Delusion' is like a nightmarish drug-induced trip that will take you to the darkest recesses of your mind and carve out memories that have been long subdued. That is why it is recommended to listen to the album from start to finish, or at least individual chapters collectively, as they represent something significant, a particular altered experience that will evoke feelings of fear and turmoil, and even relief. It's a parallel hallucinatory experience of the vagaries of life, concentrated and powerful, meant only for the strongest of minds that are able to withstand urban darkness, alienation, rot and horror.
This is probably among our best looking zipped hoodies yet. The artist has done an excellent job with the same and has opted for huge sleeve prints. It's printed on soft cotton material and comes with a long lasting metal zipper. It's an absolute stunner.
The MRTVI CD box comes with silver embossing on all the logos and title and is limited and hand-numbered to just 50 numbers. It comes packed with the following awesome items -

► 8-panel digipak CD with metallic effect/silver UV embossing
► Autographed certificate
► Fridge magnet
► Silver patch
► Badge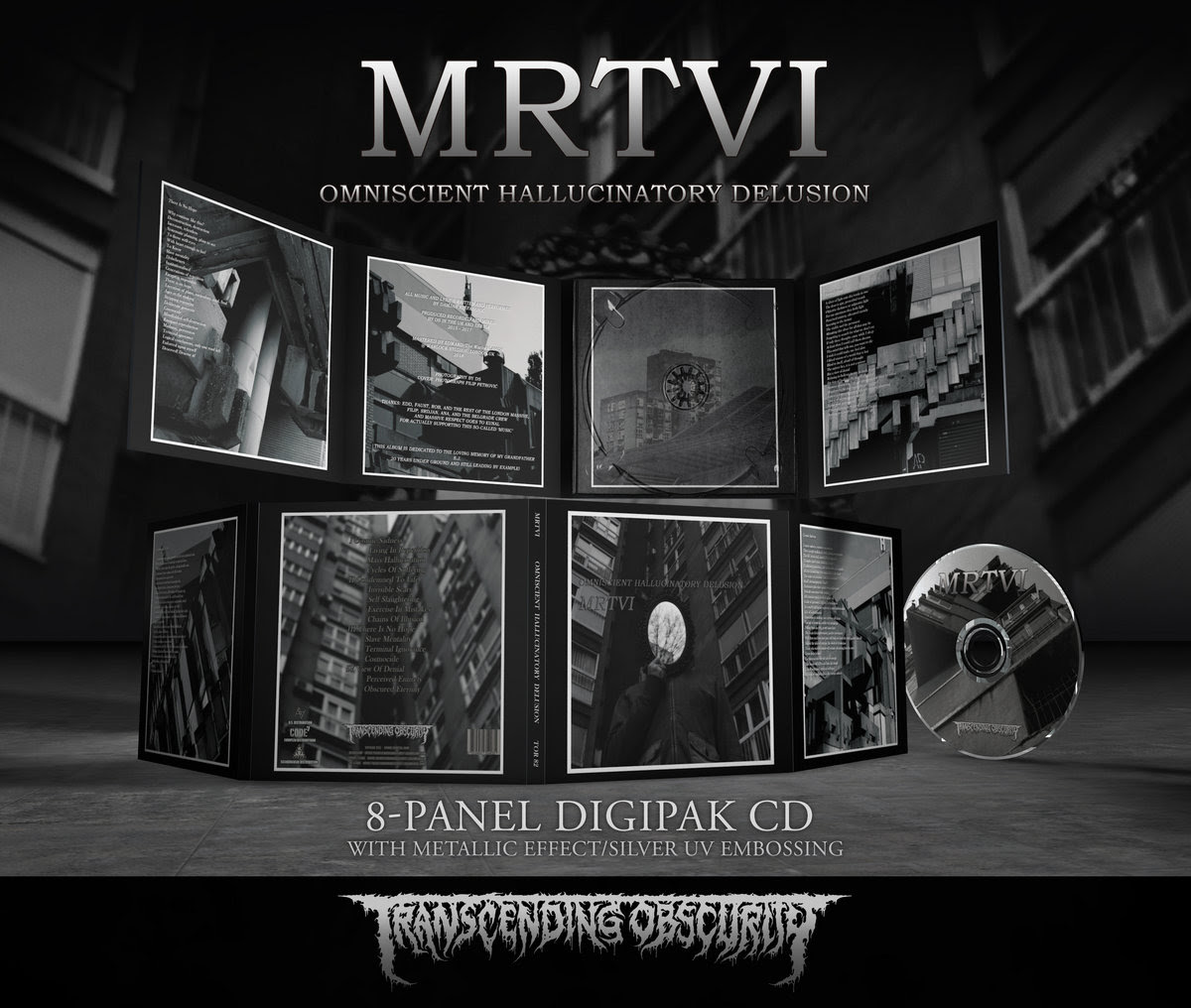 The MRTVI CD comes in a beautiful package with metallic effect throughout with UV lamination done on parts of the layout to make it a stunning package. Make sure to pick up the physical copy of this much awaited release that's limited to 300 numbers for this pressing.
Official Store
|
MRTVI Bandcamp
ATRÆ BILIS ALBUM IS OUT NOW!
Have you been missing the heavy shit? Well, you will no more! The death metal attack intensifies with the release of the eardrum-rupturing 'Divinihility' album by Canadian death metal band
ATRÆ BILIS
.
The album has opened up to a fabulous bit of appreciation from a number of publications (read below). The album is available in a range of different formats, and honestly, for all the great-looking merch, the LP box set is definitely worth checking out! (more below)
Reviews:
- "Masterpiece" -
Metalmania Magazine (Slovakia) 6/6
- "second favourite death metal album of the year so far" -
The Metal Wanderlust (US) 4.5/5
- "is another jewel in the sparkling, blood-specked crown of 2020 death metal" -
Insert Review Here (Australia)
- "one of the best discs of the year" -
Dark Souls United (UK) 8.5/10
- "is a pitch-black outing into dissonant death realms forged with a technical air" -
Metal Injection (US)
- "unpredictably brilliant and highly entertaining" -
Rock 'n' Load Magazine (UK) 9/10
- "a damn fine album" -
Noob Heavy (Aus) 9/10
- "is fun, loud and crushingly heavy" -
Metal Temple (Greece) 9/10
- "gives you goosebumps" -
Necromance (Spain) 9/10
- "an EP that all fans of extreme metal sound be checking out" -
GBHBL (US) 8.5/10
- "highly intense and unleash a destructive force" -
Stormbringer (Germany) 4/5
- "deserve some serious praise" -
The Independent Voice (UK) 4/5
- "a great great debut" -
Metal Addiction Webzine (Spain) 8.2/10
- "Excellent Disc, the best of this year" -
Rock And Blog (Spain) 3.5/5
- "an abundance of dissonances and deliberately frayed song structures" -
Musik Reviews (Germany) 11/15
- "an absolute smorgasbord of incredibly constrained songwriting" -
Heavy Blog Is Heavy (US)
- "is a pitch-black outing into dissonant death realms forged with a technical air" -
Metal Injection (US)
- "is a flawless masterpiece" -
Everything Is Noise (US)
- "is a brief masterpiece of angular, chaotic mayhem" -
Moshpit Nation (UK)
- "a seamless incorporation of so many divergent influences" -
Invisible Oranges (US)
- "fairly catchy, even if the arrangements are far from straight forward" -
Abbadon Magazine
- "a death metal fan's death metal record" -
Last Rites (US)
- "album that brings some outraging news and tendencies that possibly will be part of future Death Metal tracks" -
Metal Addicts (US)
- "offer a sort of omnibus edition of the entire death metal genre" -
Sentinel Daily (Australia)
- "decimates on every level with its massive prowess" -
Headbanger Reviews (US)
- "beautiful juicy and crisp" -
Zephyr's Odem (Germany) 9/10 ALBUM OF THE WEEK
- "the music here is tremendous; varied and highly skillfull" -
The Killchain (UK)
- "unpredictable and consistent" -
RTMB (Mexico)
ATRÆ BILIS WOODEN BOX SET
We are super-hyped about the ravishing-looking ATRÆ BILIS solid wooden box sets that are now available to fans and collectors. The box is made of high quality wood, and is bigger and sturdier than than any of our previous LP box sets. The LPs as you already know, are available in three spectacular colour variants, making this perhaps the most prized collector's edition-worthy addition to the label's range of products at the moment. Please keep in mind that the wooden box sets are limited to only 20 PER VARIANT and we're sold half of it already! This is what you can expect -
1. Wooden box with logo engraving
2. Gatefold LP with silver embossing and UV lamination
3. Autographed card
4. Large album artwork flag
5. Transparent logo sticker
Official Store
|
Atræ Bilis Bandcamp
UPCOMING RELEASES -
Revolting (Sweden) - The Shadow At The World's End (Old School Death Metal)
Please bear in mind that one of our most awaited releases, that of Revolting's full length, will go up for pre-order on September 4th, which happens to be Bandcamp Friday. Basically it means that Bandcamp won't be taking their usual revenue share and it helps the bands and labels that much more. Here's a sneak peek into one of the products that we'll be offering that day -


Heads For The Dead (International) - Into The Red (Horror-themed Death Metal)
You've seen the artwork for the upcoming Depravity full length, now witness the album cover for the upcoming Heads For The Dead release made by Branca Studio. We'll be unveiling an official video on the channel soon, so keep an eye out for it! It'll be up for preorder in about a month's time as well, right after Depravity!
Lastly, here are some free download code for the Atræ Bilis release since you all are so awesome and supportive! Their LPs are en route to us along with the Sepulchral Curse LPs so it's going to be a blast in September which is when they're expected to ship out (hopefully before the announced shipping date)!

http://transcendingobscurity.bandcamp.com/yum