Cassette - 5.99
CD / T-shirt / Girlie - 6.99
Long Sleeve / Cassette Box - 7.99
LP / Zipped hoodie / CD Box - 8.99

Of course, the price per additional item on Bandcamp for instance is just a couple of bucks more for most! So it ALWAYS makes sense to buy more than one item where possible. Do bear in mind that we've had to create special packaging boxes for these coffin-shaped wooden box sets and some other items so these low rates include all of that. Come 2021, we're planning to innovate there as well and offer some fancy yet sturdy branded packaging if all goes well!


Where this month's offer goes, it's pay-what-you-want for digital albums from our entire catalog. We're trying to see this year end on a positive note and hope it helps! Please feel free to spread the word where possible. Here's the Bandcamp link -
https://transcendingobscurity.bandcamp.com
Terrific new Finnish death metal band Revulsion have pre-orders up now!
We're thrilled to work with some extremely deserving bands from all over and are happy to unearth yet another fine death metal band in

Revulsion. Two of the songs are streaming
HERE
and I promise you you won't be disappointed!


Revulsion

happen to be one of Finland's best kept secrets. It's no surprise that the country boasts of some of the finest death metal bands and with their new full length,

Revulsion

are sure to be considered as one among them, joining label mates

Sepulchral Curse

and

Sadistik Forest

to take the Finnish death metal sound ahead. They're not stuck with the old school sound but are instead taking things forward with their aggressive, sharp and viciously groovy form of death metal that begs for repeat listens. There's an air of dissonance about their sound along with plodding doom metal influences that elevate them above the meat and potatoes kind of death metal bands, without allowing it all to affect the inexorable momentum that will knock you flat. This is death metal that is contemporary and practical, taking the best elements from all over and delivering it flawlessly without pulling any punches. Prepare yourself for a fantastic listening experience from start to finish.

Artwork by Kuba Sokolski (Thou)

For fans of -

Dying Fetus, Depravity, Suffocation, Sadistik Forest, Atræ Bilis, Gorguts, Psycroptic, Ulcerate, Morbid Angel, Cannibal Corpse, Paganizer, Broken Hope, Sepulchral Curse


These are high-quality soft cotton hoodies with a long-lasting metal zipper. It comes with a beautiful full-detail album artwork print that's made by Kuba Sokolski (Thou) and has corresponding prints for both the sleeves, with the band logo in the front.



Here's the jaw-dropping coffin-shaped solid wooden box with laser engraving of the Revulsion band logo. The box is made of high-quality pine wood and is suitably large to accommodate the beautiful digipak CD and all the exclusive contents that come with this edition. It's definitely going to stand out in your collection. This is what you get here in a fully loaded package -

► Coffin-shaped wooden box with laser engraved logo
► 8-Panel Digipak CD with metallic effect and UV lamination
► Autographed card
► Metallic logo patch
► Badge
► Beer coaster
► Bottle opener with keychain
► Metallic sticker



These are high quality, comfortable long-sleeve T-shirts of 230 gsm thickness while also being soft. There are prints on both the sleeves, with the band logo and album artwork thumbnails covering the entire length of the sleeves. And of course, there's the mesmerizing (and massive) Kuba Sokolski (Thou) artwork as the main print.




As you can expect, we take special care with our digipak CD packaging and this one has a beautiful metallic matte effect throughout with gloss UV lamination done on parts of the stately artwork made by Kuba Sokolski (Thou).
Revolting LPs are in and they look fantastic!
We've used actual pics on all these mockups and they look terrific. I think it's our best vinyl release yet, and that's saying something. Here are actual pics on mockups of all the five variants for this one. Do bear in mind that they're strictly limited to 100 each (including the box set versions) and won't be repressed. Don't wait too long!


Stunning Depravity and Revolting cassettes are en route!
The excellent quality cassettes that we're importing are en route and below is an actual pics of the three tapes sent by them. The fully printed ones are limited to just 100 nos. each and half of them go towards the coffin-shaped wooden box sets! In the case of

Revolting, they're exclusively available as part of these box sets.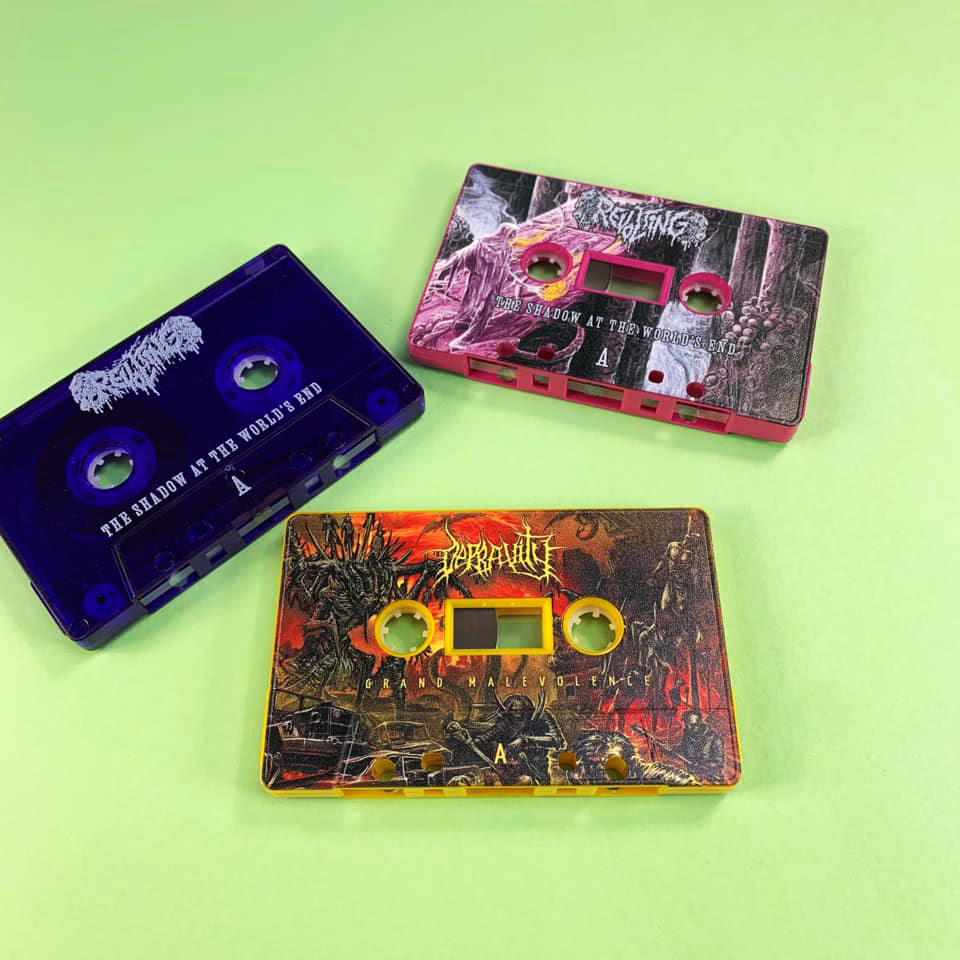 Atræ Bilis Wooden LP box sets have started to reach people!
We've gone out of our way to make these superb quality wooden LP box sets with laser engraving and include some of the best quality items such as the silky flag and here are a couple of pics sent in by a customer. These are always strictly limited and in this band's case, less than 10 or so remain. If you're worried about shipping, you can always get them from our
US Indiemerch store
or the
Europe Store
which is based in Germany (if you don't see anything you want over there after the release date, feel free to hit us up and we'll make sure we hook them up with what you want!).


Experimental black metal entity MRTVI unleash shocking full length
The 'Omniscient Hallcinatory Delusion' full-length by

MRTVI is out now, and is coming into bold, rave reviews from all over! For the uninitiated,

MRTVI's music definitely veers off into an obscure branch of black metal that dips erratically into noise, unassuming moments in song structure, and a sonic feature that melds intrinsically with dissonance. It's safe to say that the music requires an acquired taste to be enjoyed, so it's definitely intriguing, to say the least. Check it out if you haven't yet, and hey, it's Bandcamp Friday as well, so you'd be doing the band a solid by checking out their music and merch on their Bandcamp page
AT THIS LINK
! Here's some of the acclaim the release has already received-
- "one of the best of its kind" -
Head-Banger Reviews (US)
- "excellence in execution" -
Angry Metal Guy (US)
- "an experience intentionally designed to feel like an acid trip gone awry" -
Last Rites (US)
- "simultaneously hypnotic and frightening" -
No Clean Singing (US)
- "is a phenomenal record" -
Metal Utopia (US) 8/10
- "This is great art" -
Metal.de (Germany) 8/10
- "hair-raising sound event" -
Musick Reviews (Germany) 10/15
- "enlightening experience" -
Black Metal Daily (US)
- "a nightmarish spiral of psychedelic effects" -
Treble Zine (US)
- "a unique, surreal experience" -
Stormbringer (Austria)
- "Uncompromising, merciless" -
Slyzza Dashboard (Germany)
- "interesting, new and innovative, refreshing Black Metal" -
Ave Noctum (UK)
Check it out
HERE
! A full album stream should be up shortly on our
YouTube channel
as well!
New artwork reveals!
Here's a sneak peek into what's coming your way in the near future! We're doing our best to work with some of the best artists where we can (and if bands cooperate).


Plasmodium (Australia) - Towers of Silence (Experimental Black/Death Metal)

Artist - Adam Burke (Imperialist, Lurk, Atræ Bilis)





Apophis (Germany) - Excess (Death Metal)

Artist - Misanthropic Art (Death Courier, Xpus)


Soothsayer (Ireland) - Echoes of the Earth (Atmospheric Sludge/Doom Metal)

Artist - Liam Hughes (the band's vocalist)





Dodsferd (Greece) - Skotos (Atmospheric Black Metal)

Artist - Bacchus
Towards Atlantis Lights (International) - When The Ashes Devoured The Sun (Atmospheric Death/Doom Metal)

Artist - Francesco Gemelli (Master,

Katatonia)


New videos uploaded on the channel of upcoming releases!
Gutter Instinct (Sweden) - Open The Bloodgates (Black/Death Metal)
Black Mass Pervertor (Finland) - Clean Your Master's Boot (Black/Thrash Metal)
New band signings!
We've cut down drastically on the number of signings this year mostly because we've got our plate full but that doesn't mean you won't see fresh acts on the label from time to time. There are still some unnannounced bands that you'll see on this year's upcoming label sampler and we'll try to reveal more info on a few more of them if possible.


Hellfrost and Fire (Old School Death Metal)
We're proud to announce that death metal supergroup

Hellfrost And Fire

have signed on to Transcending Obscurity Records, and will be releasing their debut album, 'Fire, Frost and Hell' in early 2021. The line-up consists of Dave Ingram

(Benediction, ex-Bolt Thrower, Down Among The Dead Men, Echelon, Ursinne) on Vocals, Rick Dennis (Gath) on Guitars/Bass, Travis Ruvo (Cropsy Maniac, Echelon) on Drums, and features solos performed by Scott Fairfax (Memoriam UK, As The World Dies).
Viande (Dark Death Metal)
We haven't been signing too many bands of late but earlier this year we couldn't resist signing one upon listening to Viande's mesmerizing brand of dark and eerie death metal. Fans of bands on the label such as Xpus, Trench Warfare, Jupiterian, Death Courier, P.H.O.B.O.S., etc. should definitely be into their music! You can check out a track from their upcoming album
AT THIS LINK
.
Sorry for the long email! Thank you so much once again for your support and don't forget to download the free albums this month! Here are some links -
Official Site

Official Bandcamp

Official US Indiemerch Store

Official Europe Store