PRESS RELEASE

Mighty Music 2020 releases recap
Mighty Music releases for your best-of 2020 lists
2020. What a year. Not for the best reasons for sure, but at least we have music. Here's a list of what Mighty Music/Target Records put out since the beginning of the year, to mitigate reclusion, to escape harsh reality or, simply, to give you hope in better days.
FREDDY AND THE PHANTOMS "A Universe From Nothing"
Release date: 24.04.2020
Classic rock'n'roll, blues, a conceptual album and a band that screams quality! Freddy And The Phantoms return with a blast!

"First Blood Universe" video
IRON ANGEL "Emerald Eyes"
Release date: 02.10.2020
New album from the German speed/thrash metal legends that helped forge the style. Fresh, hungry and energetic!

"Sands Of Time" video
MIKE TRAMP "Second Time Around"
Release date: 12.05.2020
The ex-White Lion and Freak Of Nature singer returned to full-length studio albums with an exceptional collection of brilliant & honest songs.

"The Road" video
VULCANO "Eye In Hell"
Release date: 13.03.2020
New studio album from one of the most influential bands in South America. The masters' return was crowned with 13 tracks of pure extreme metal.

"Bride Of Satan" video
WITHERING SURFACE "Meet Your Maker"
Release date: 19.06.2020
The comeback album from the founders of Danish melo-death was received with awe and excitement from the press and fans.

"Leaves In The Stream" video
BLENDED BREW "Shove It Down"
Release date: 01.05.2020
Danish high-hopes Blended Brew returned this year with their rock with big "R" and a mandatory album for all A/DC, Deep Purple, and Rival Sons fans.
"Shove It Down" video
BOYS FROM HEAVEN "The Great Discovery"
Release date: 23.10.2020
Danish AOR revivalists Boys From Heaven bring back the spirit of the great eighties, captured in a modern studio.
"Convictions" video
CHRONICLE "Demonology"
Release date: 27.03.2020
The bastard child of old-school thrash metal, melodic death metal and death metal with a sprinkle of Finnish melody thrown in for a good measure.
"Return To Zero" video
CONNY BLOOM "Game! Set! Bloom!"
Release date: 13.03.2020
All new solo album by one of the greatest frontmen in rock music (Electric Boys, Hanoi Rocks). All new songs sang in native Swedish language.
"Rulla På" video
CONNY BLOOM "Med Charlie I Venedig" 12" EP
Release date: 18.04.2020
Limited 12" vinyl EP (300 copies) by Conny Bloom, released in connection with Record Store Day. Features two new, unreleased songs, sung in Swedish.
"Med Charlie I Venedig" video
DEMOLIZER "Thrashmageddon"
Release date: 11.09.2020
Debut album by the new thrash Danish powerhouse Demolizer. For fans of Slayer, Exodus and Municipal Waste.
"Cancer In The Brain" video
ELECTRIC BOYS "The Lion's Roar" 12" EP
Release date: 18.04.2020
Limited (300 united) special 12" EP, released in Record Store Day, with the title track being a First Aid Kit version, and Joe Walsh's "Life's Been Good" on side B.
"The Lion's Roar" track
GRUMPYNATORS "Still Alive"
Release date: 28.08.2020
Third album by Danish rockabilly/hardrockers Grumpynators, with a high energy level. It's rock, cut to the bone with an adrenaline-pumping party vibe.
"Still Alive" video
JUSTIFY REBELLION "The Ends Justify The Means"
Release date: 27.03.2020
New album by one of the best heavy metal bands from Denmark. For fans of Metallica, Slayer and Volbeat.
"Crowd Control" video
MERIDIAN "Taking Cover" EP
Release date: 23.10.2020
Hard rockers Meridian go all-covers, with takes on Van Halen, A-Ha, Van Halen, Phil Collins, Randy, Gary Moore & Phil Lynott and Skagarack.
Meridian "Why Can't This Be Love" video
MIKE TRAMP "Trampthology"
Release date: 18.12.2020
Double-disc compilation featuring 16 of the biggest hits from the solo career of the White Lion and Freak Of Nature ex-singer, Mike Tramp.
"Take Me Away" video
NONEXIST "Like The Fearless Hunter"
Release date: 28.08.2020
New album by the melodic death/thrash band fronted by Dark Tranquillity guitar player Johan Reinholdz. Guest appearances by Michael Stanne, Chris Amott.
"Together We Shall Burn" video
NO RETURN "Live XXX"
Release date: 18.12.2020
Turning three(!) decades of career, the iconic French melodic death/thrash metal band No Return makes the best career recap possible: live.
SILVERA "Edge Of The World"
Release date: 16.10.2020
A musical hybrid of American radio rock (think Nickelback and Alter Bridge) with a Scandinavian Punch, not unlike Volbeat. an outstanding debut.
"Alive" video
VANIR "10 Years Of Mead And Metal" EP
Release date: 17.04.2020
Celebrating their 10th career anniversary, Danish Viking metal band Vanir released a special EP with four re-recorded tracks and a cover version.
"Særimners Kød 2020 version" video
WAYWARD DAWN "Haven Of Lies"
Release date: 10.04.2020
One of the most promising old-school death metal acts from Denmark. For fans of Cannibal Corpse, Obituary and Morbid Angel.
"Apathy" video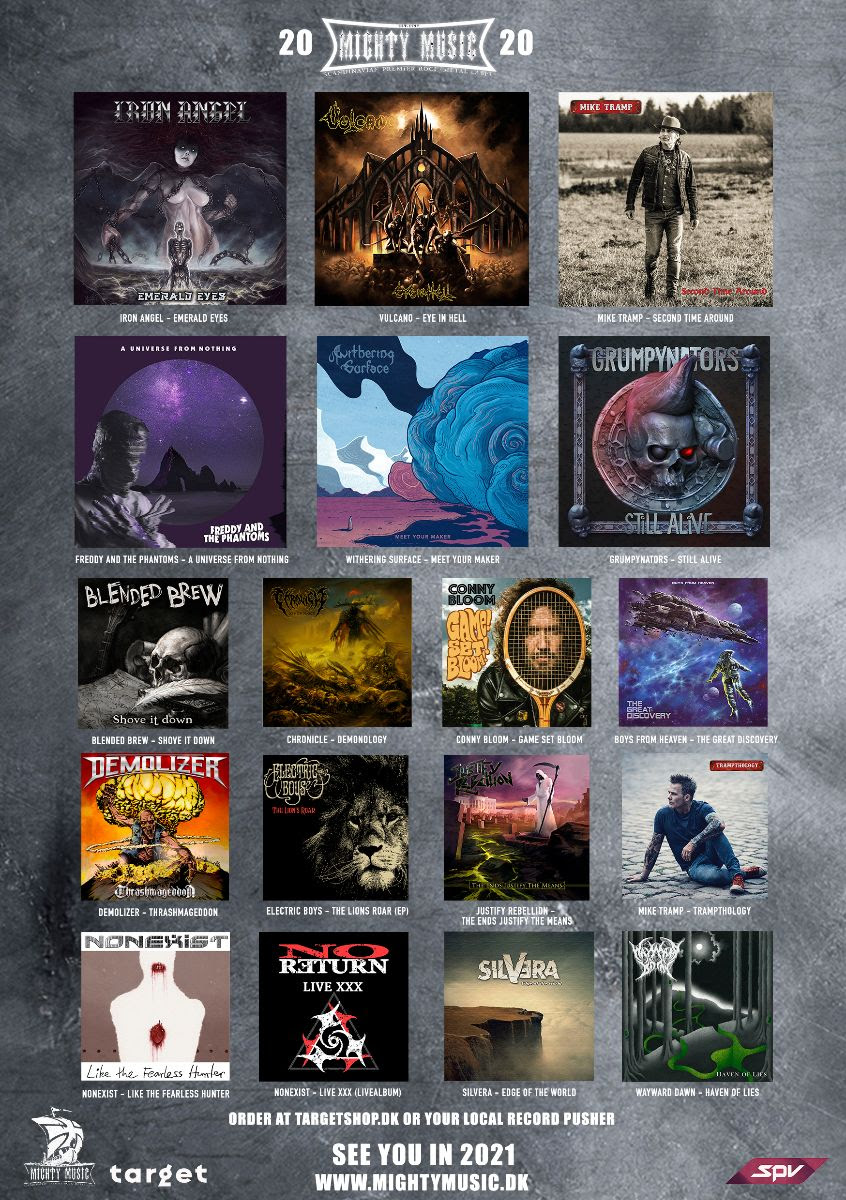 MIGHTY MUSIC/TARGET 2019 releases