THE PRETTY RECKLESS – DROP NEW SONG "AND SO IT WENT" (FEAT. TOM MORELLO)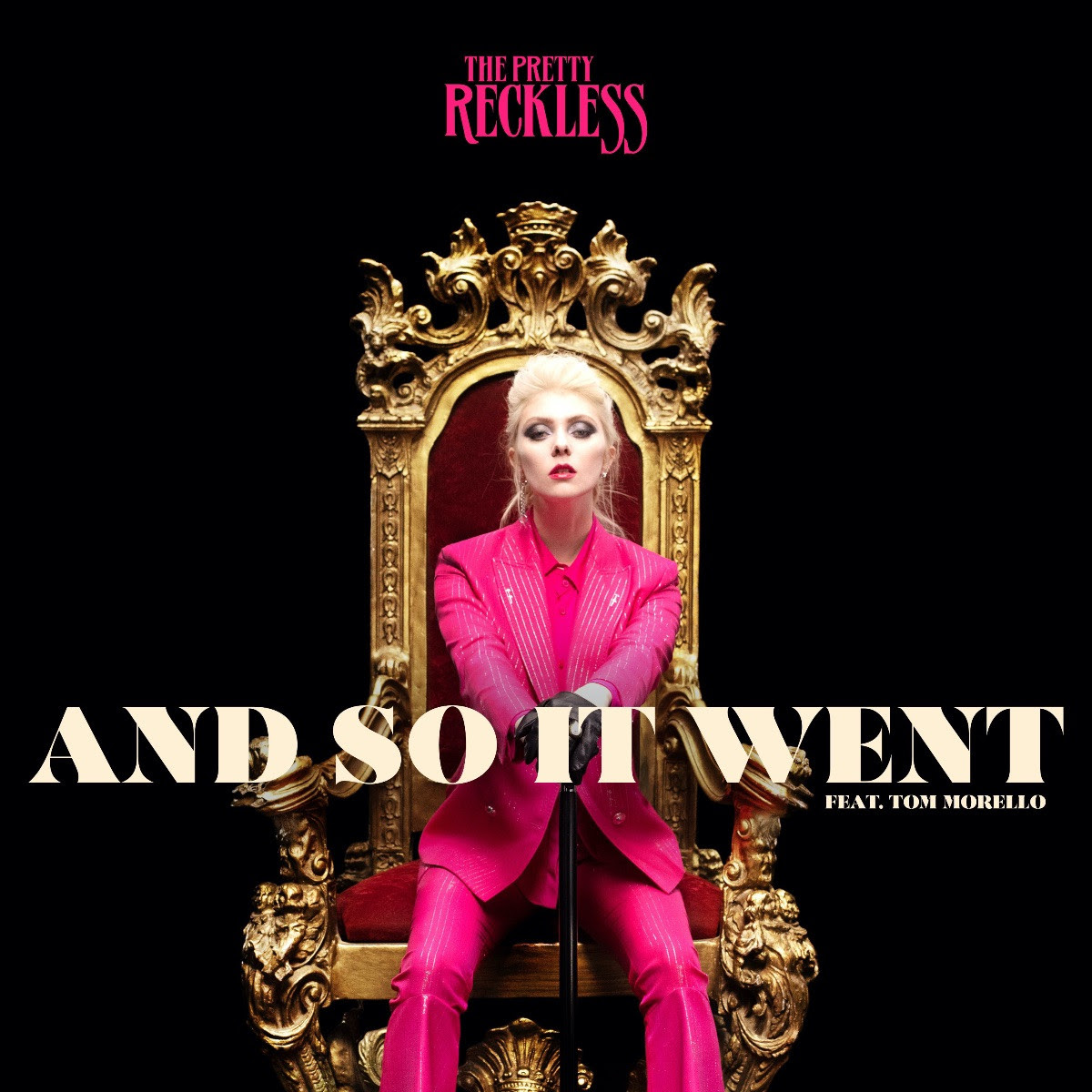 THE PRETTY RECKLESS have shared their new single "And So It Went." The track features guitarist Tom Morello.

Listen to the song here.

"The world has been in such a state of civil unrest," says singer Taylor Momsen. "'And So It Went' basically comes from that vision. As a songwriter, I feel like I'm not here to preach. I use music to observe and communicate what I see around me. This song felt like the perfect storm for Tom Morello to join in and rip the sound waves apart with his guitar. It was more than a pleasure having him add his unique and defining sound to the song."

The band previously shared the glamorous video for "25."

The Pretty Reckless will release their fourth album, "Death By Rock And Roll", on February 12 via Century Media Records. Pre-orders are live here.

The album, which follows 2010's Light Me Up, 2014's Going To Hell, and 2016's Who You Selling For, is titled after the first single, which rocketed to No. 1 on the rock charts and held strong for several weeks. It marked the fifth No. 1 single of the band's career and was heralded by Paper, Loudwire, CNN, Forbes , and more. The band also has the incredible and impressive distinction of being the first female-fronted band to have back-to-back No. 1 singles at the active rock format and the first female-fronted act to have five No. 1 singles on the Billboard chart.

DEATH BY ROCK AND ROLL TRACK LISTING:
"Death By Rock And Roll"
"Only Love Can Save Me Now"
"And So It Went"
"25"
"My Bones"
"Got So High"
"Broomsticks"
"Witches Burn"
"Standing At The Wall"
"Turning Gold"
"Rock And Roll Heaven"
"Harley Darling"
ASPHYX - LAUNCH "THE NAMELESS ELITE" SINGLE AND VIDEO OFF UPCOMING ALBUM "NECROCEROS"!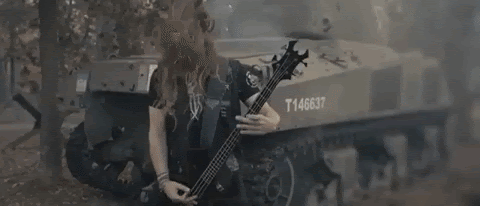 The legendary Dutch Death Doom Elite ASPHYX will soon be releasing their much anticipated new, 10th full studio album "Necroceros" worldwide on January 22nd, 2021 via Century Media Records.
ASPHYX are now launching a new single for the album with the song "The Nameless Elite" today, which can also be seen in a video created by Maurice Swinkels / Younique Film (Legion Of The Damned, Exodus, Kataklysm, etc.) here.
ASPHYX frontman Martin van Drunen checked in about the song and clip as follows:
"This third single of our forthcoming 'Necroceros' album is entitled "The Nameless Elite" and is about modern-day warfare, especially about the brave men and women in the many international elite units that combat any form of terror to protect us all against violent acts of insanity.
We thought the location at the Overloon War Museum was a fantastic one to shoot a video for any kind of song dealing about war and the Sherman tank in the clip actually did serve during WWII on the battlefields in that area. It may not be directly related to the content of the track, but ASPHYX is a band that has always and will always take on any subject concerning war, without glorifying it. War is Hell.
We would very much like to thank the wonderful cooperative people of the Overloon War Museum in The Netherlands for giving us permission to shoot there, causing pleasant chaos with our noise and smoke!"
Previously, ASPHYX already released two other singles off "Necroceros" as follows:

"Botox Implosion" (video) https://youtu.be/9zw241m3JRQ
"Knights Templar Stand" (lyric-video): https://youtu.be/grkuAMJYv0M
"Necroceros" was recorded at Tom Meier's Tom Meier Studio as well as at Paul Baayens' The Mörserstudio and then finally mixed/mastered by Sebastian "Seeb" Levermann at Greenman Studios. The album once again features front cover artwork by Axel Hermann and contains the following tracklisting:
ASPHYX – "Necroceros":

The Sole Cure is Death
Molten Black Earth
Mount Skull
Knights Templar Stand
Three Years of Famine
Botox Implosion
In Blazing Oceans
The Nameless Elite
Yield or Die
Necroceros
BAEST - RELEASE SECOND SINGLE "MEATHOOK MASSACRE" AND OFFICIAL VIDEO OFF NEW ALBUM "NECRO SAPIENS"
Danish Death-Metal outfit BAEST release "Meathook Massacre" the second single of their upcoming album release "Necro Sapiens" (March 5th) accompanied by a stellar live performance video recorded in their studio.


The band comments:
"The video for Meathook Massacre is from the recording process of the Necro Sapiens album. The whole album was recorded live, every one of us tracking simultaneously - and the observant listener is able to spot some tracks, that made it to the final cut as well! (Disclaimer: the lights weren't as cool for the whole recording, sadly…)"
Find the new official video for "Meathook Massacre" here.


About "Meathook Massacre"
"In his den of violence, a specialist in pain and suffering resides. A torture mercenary, who lives to see the everflowing stream of malicious desires of the elite, satisfied. We welcome you, to his Meathook Massacre."


Tracklist:
The Forge
Genesis
Necro Sapiens
Czar
Abattoir
Goregasm
Towers of Suffocation
Purification Through Mutilation
Meathook Massacre
Sea of Vomit
ANGELUS APATRIDA - NEW SINGLE & VIDEO FOR "INDOCTRINATE" OFF UPCOMING
SELT-TITLED ALBUM!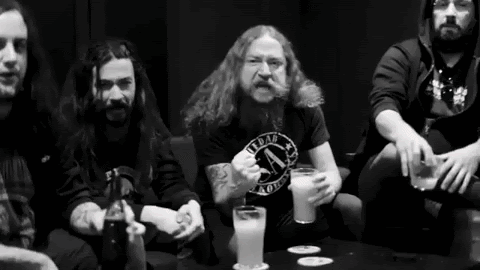 Spain's leading Thrash Metal band ANGELUS APATRIDA is soon to release their 7th, self-titled album on February 5th, 2021 worldwide via Century Media Records.
Today, the band launches the album's opening track "Indoctrinate" as second single. Check it out in a video clip by Fernando Morales / Micoco Graphics here.

ANGELUS APATRIDA checked in with the following comment about the song: "When your new album is written and recorded during a global pandemic, you might expect some side effects on it. "Indoctrinate" is the opening track of 'Angelus Apatrida' and it's probably the angriest song we ever composed! It reflects a mix of all feelings experienced throughout this past year and also how people were being radicalized via stupid extremist populism within society. There is no place for racism, fascism, homophobia or any other act of intolerance or bigotry in Rock music. Actually, there is no place for any of it in a civilized, democratic society. And it's our responsibility to face it and not to look the other way. This is hostile music for hostile times."
Previously, ANGELUS APATRIDA had released a video for the album's first single "Bleed The Crown", which can still be seen here.


"Angelus Apatrida" ("/ˈan-je-lus - a-ˈpa-tri-da/") was produced by the band, recorded with Juanan López in September/October at Baboon Records, in Albacete, Spain and then mixed and mastered by Zeuss (Rob Zombie, Overkill, Hatebreed, Municipal Waste, Shadows Fall) at Planet-Z in Wilbraham, MA, USA. The album features 10 songs, sounding more determined, versatile and ferocious than ever before, on the verge of the group's 20th anniversary of existence.
"Angelus Apatrida" once again comes with artwork by Gyula Havancsák (Annihilator, Destruction, Stratovarius) and is available as limited CD Jewelcase in O-Card or as 180g. vinyl LP with the album on CD as bonus, on either black vinyl or in limited edition coloured runs (Creamy White vinyl: 100x copies from CM Webshop, Yellow vinyl: 200x copies from CM Distro and Red vinyl: 300x copies for Spain)
ENFORCED - RELEASE VIDEO CLIP FOR "MALIGNANCE", TAKEN FROM "KILL GRID"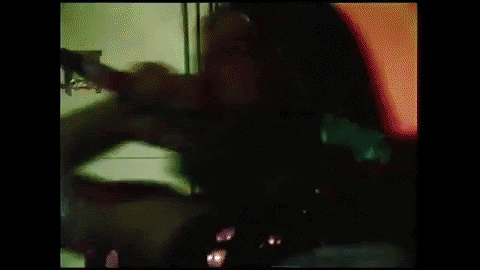 Virginia-based crossover maniacs ENFORCED open their Century Media account with their blistering new album, "Kill Grid". Informed by an incredible cross-section of extremes - from thrash and punk to death metal and hardcore - the emergent outfit drop a nine-song cluster-bomb of thrashing death on apathetic times. After already releasing "Hemorrhage" right before the holidays the band is unleashing an official video for "Malignance" which you can watch here.
While the video is capturing the raw, but positive energy of an ENFORCED live show the song itself has a very serious background. Knox Colby (vocals) explains: "'Malignance' is about being on the wrong side of history, being led down the path of an ideology built on hatred and violence, only to end up with a bullet in your stomach. The lyrics about-face towards the end of the song and try to shake you out of it. Wake up, get a grip, understand and accept that you're wrong. The chorus was inspired by a World War 2 prisoner-of-war torture tactic I read about. Soldiers who were captured were forced to smell the bodies of their friends and comrades, which became this strange introspective psychological torture that fit the narrative I was writing." Guitarist Will Wagstaff dives deeper into the music: "This song has an older Slayer type of vibe to me, maybe 'Show No Mercy'/'Haunt the Chapel' era. This is a pure crossover song, ala Exodus/early Testament/Slayer. We knew we wanted to keep it fast for most of the song and it ended up coming together organically during a practice."

"Kill Grid" came together over a two-year period while ENFORCED were marauding halls and dive bars across the East Coast and Canada. Indeed, inspiration came from different directions, but playing live with bands like Sacred Reich, Red Death, Iron Reagan, All Out War, and Integrity shaped what was to come out of the Richmonders. While it was the previous output that attracted the attention of Century Media, it's "Kill Grid", that's going to put ENFORCED on top-lists of circle pit lunatics around the globe. To track their sophomore full-length, ENFORCED enlisted long-time friend and studio maven Bob Quirk (Iron Reagan) to engineer, as well as Philadelphia-based studio whiz Arthur Rizk (Power Trip, Cavalera Conspiracy, Pissed Jeans, Eternal Champion, Ghostemane, Code Orange) to mix and master.

Venom Prison signs to Century Media Records:


Garnering press-raves including: "VENOM PRISON have captured the hearts and minds of many fans of extreme music since bursting onto the scene in 2015." (Metal Hammer UK), "Nothing shy of absolutely destructive in the best way." (Revolver). And placing #4 on Kerrang!'s list of "The 50 Greatest Death Metal Bands Right Now", UK extremists VENOM PRISON are taking their next step with their new label home, Century Media.


Commenting on the signing, VENOM PRISON, who are busily writing their third full-length LP say:
"We are proud to announce that VENOM PRISON has signed with Century Media Records for a worldwide deal. This deal marks the beginning of a new chapter for VENOM PRISON and we are honoured to call Century Media our home, which we look forward sharing with some of the most iconic artists in heavy metal, as well many of our talented friends."

EYEHATEGOD signs to Century Media Records:


The quintessential Southern sludge band (Pitchfork) that Rolling Stone dubbed one of "America's great live bands", have returned to Century Media Records, with an eye towards a Spring 2021 release for the band's first album in seven years: A History of Nomadic Behavior (date TBA).



A joint statement from the band on the band and label reunion:

"EyeHateGod are pleased to announce we've signed a licensing deal with Century Media Records USA and Europe...! We welcome the new changes along with the new year coming, and want this union to benefit everyone involved, especially our rabid and disturbed fans across the globe!"