HOME

|

SHOP

|

LISTEN
Summoning "The Demon Tapes … Anno Mortui Domini 1959-1961″ 3 x MC In Stock Now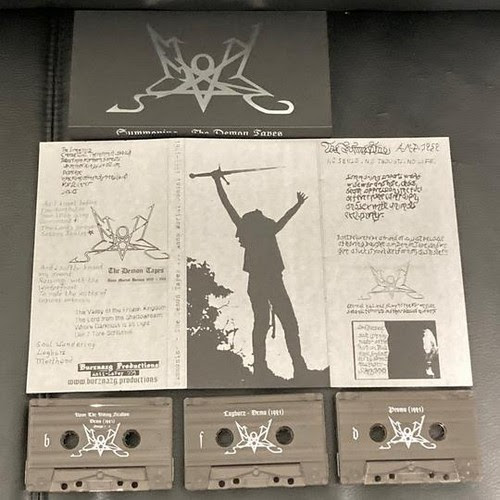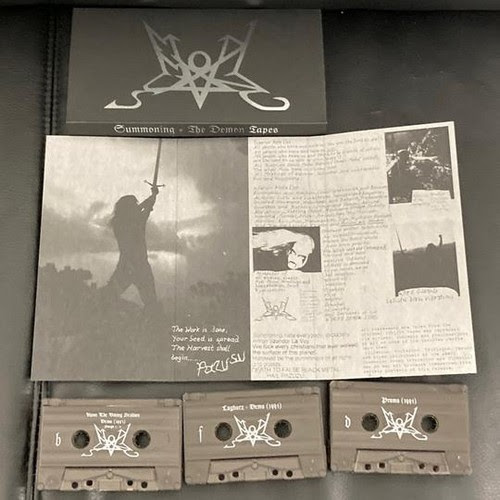 Anno Mortiri Domini 1959 Demo (1994)
A1 The Summoning (Verse III-VI The Infernal Cabbala) 2:06
A2 Tales From The Northern Forest 4:05
A3 Upon The Viking Stallion 7:15
A4 Dark Age 2:10
A5 In The Name Of The Holy Penis (God) 7:53
A6 Nordlichter 1:08
A7 Jesus 1:47
Upon The Viking Stallion Demo (1993)
B1 As I Kneel Before The Northstar 5:24
B2 Your Wish Is My Command 5:54
B3 The Lords Prayer 5:40
B4 Satans Realm 6:18
C1 And I Softy Kissed My Sword 6:27
C2 Raising With The Winterfrost 5:28
C3 To Ride The Paths Of Legions Unknown 5:42
Promo (1994)
D1 The Valley Of The Fallen Kingdom 5:54
D2 The Lord From The Shadowrealm 4:05
D3 Where Darkness Is As Light 6:13
D4 Der Sieben Tore Schlüssel 2:12
Lugburz – Demo (1994)
E1 Soul Wandering 2:29
E2 Lugburz 6:18
E3 Morthond 8:51
F1 Soul Wandering 2:29
F2 Lugburz 6:18
F3 Morthond 8:51
3 x cassettes in triple plastic case + black O card with silver foil printing. The songs were taken from the demo period of Summoning, in the years 1993/1994.
Click here to order.
Proclamation LPs and Boxset Out Now
Proclamation "Advent Of The Black Omen" LP/CD/MC
ANTI-GOTH 50 / COMMAND 001
Advent of the Black Omen by Proclamation
Proclamation "Messiah Of Darkness And Impurity" LP/CD/MC
ANTI-GOTH 88 / COMMAND 002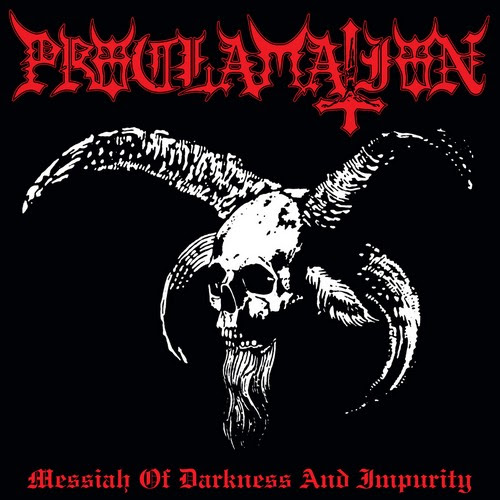 Messiah of Darkness and Impurity by Proclamation
Proclamation "Execration Of Cruel Bestiality" LP/CD/MC
ANTI-GOTH 128 / COMMAND 003
Execration of Cruel Bestiality by Proclamation
Proclamation "Nether Tombs Of Abaddon" LP/CD/MC
ANTI-GOTH 209 / COMMAND 004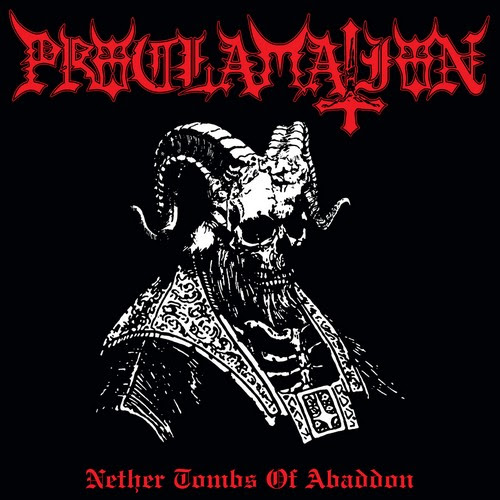 Nether Tombs of Abaddon by Proclamation
Few bands working within this subgenre have so successfully delivered such aggressive and violent onslaughts and few have remained so faithful to the blueprints established by Blasphemy, Beherit, Impurity, Sarcofago, etc. This is not a "retro" band, however. These releases easily stand alongside the classics produced by those masters. Among the seemingly endless tide of Bestial Black Death bands released each month, few can be as favorably compared to the pregenitors of the genre. Proclamation is one of the few that can. Perhaps this is because Proclamation has studied the masters so thoroughly and refuses to be influenced by anything other than the unholiest of bestial black metal. You will hear no heavy metal influence. ..no norsecore…no funthrash…instead you will be thoroughly assaulted by chaotic riffs, morbid intros, searingly violent guitar solos, and blasphemous vocals from beyond that will rape and devour your soul. Released in conspiracy with Ross Bay Cult.
Available as individual black vinyl LPs, or die hard red/black smoke vinyl 4LP Boxset.
Regular version:
-Black vinyl LP, gatefold jacket, 12″ insert, and 24″x24″ poster.
Die Hard version:
-Case-wrapped (tip-on) textured box with silver foil-stamped lid
-Red/black smoke vinyl LP
-Gatefold jacket with UV gloss varnish
-12″ insert
-24″x24″ poster of the cover art
-36″ x 52″ poster flag
-Die cast logo pin
-Vatra I Sumpor Zine #1 with the longest Proclamation interview ever done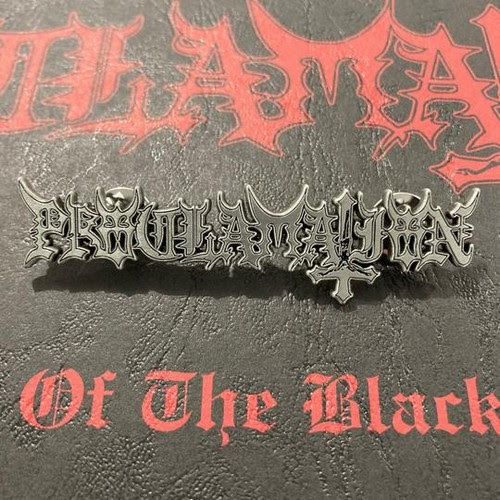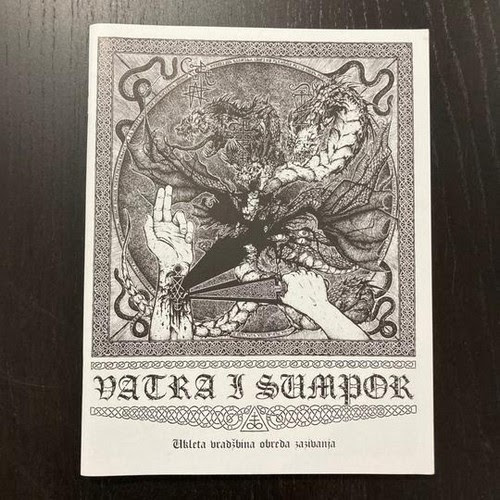 IMPORTANT DISCLOSURE: Due to an unfortunate factory error, most of the colored vinyl and some of the black vinyl Proclamation LPs arrived slightly warped. As far as we can tell based on the copied tested, the warping does not affect play. We are in communication with the factory to have this problem addressed ASAP, but nothing will be known until after the holidays. Please don't order this item if you're very picky about the cosmetics of your records.
Click here to order.
Ohura-Mazdo "The Incarnation of Sathanas" MLP Out Now
Ohura-Mazdo "The Incarnation of Sathanas" MLP
ANTI-GOTH 527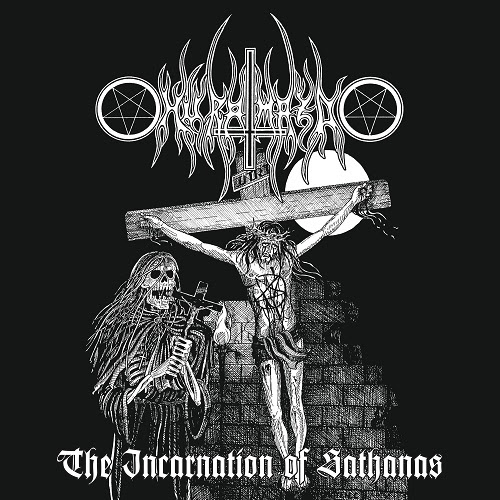 The Incarnation of Sathanas by Ohura-Mazdo
Cult Japanese black doom metal demo from 1992 reissued for the first time on vinyl. Limited pressing of 300 copies all on purple/black marble vinyl. Audio will be sourced from the best quality tape and fully mastered for vinyl by James Plotkin (Regurgitation, OLD, Khanate, etc.). It will sound much better than what's been posted on youtube and elsewhere. The layout features an old Chris Moyen artwork that was drawn for Ohura-Mazdo in 1992-93 as a T Shirt design. For fans of early Unholy, Xantotol, and early Samael.
Click here to order.
Aske "Caprae Adorare" LP Out Now
Aske "Caprae Adorare" LP
ANTI-GOTH 531
Caprae Adorare by Aske
Prior to its reemergence in 2016 and, most notably, its recent split release with its Finnish compatriots in Witchcraft, Aske had spent approximately eighteen years on hiatus from active promulgation of the black arts. However, during the years of its original inception from 1991-1998, the band released a total of six demos of harrowing and primitively-produced black metal. "Caprae Adorare" compiles seven tracks from this early demo period, all of which were captured on a four-track recorder.
credits
Tracks 1-4 recorded in 1995
Tracks 5-7 recorded between 1994 to 1997
One time pressing of 150 copies on black vinyl with 3mm jacket.
Click here to order.
Evil "Possessed by Evil" CD Out Now
Evil "Possessed by Evil" CD
ANTI-GOTH 540
Possessed by Evil by Evil
(Description by C. Conrad)
Nuclear War Now! is proud to announce its continued allegiance with Evil (Jpn) in releasing the band's second album, "Possessed by Evil." As previously demonstrated on the 2017 debut, "Rites of Evil," as well as the demo, two live recordings, and split with Siege Column that have since emerged, these twelve tracks of black/thrash metal once again capture the darkness of first wave black metal and unite it with the aggressive precision of early Teutonic thrash. Previous points of comparison between Evil and early Sodom continue to hold true, as do those that recognize similarities with the most notorious of Japanese hardcore outfits, especially insofar as the unhinged vocal delivery is concerned. Evil is anything but apologetic in its reverence to its metal heritage, which is what lends its recordings such a high degree of authenticity. "Possessed by Evil" is an unabashed conglomerate of riffs, accentuated by incisive leads and rabidly barked vocals. If there is one notable contrast with the debut album, it would be an increased cohesiveness among the instruments. Whereas "Rites of Evil" at times felt a bit loose, the performances on this album are characterized by noticeably tighter synchronicity, which one could logically assume to be the result of the band's greater longevity. In any case, the outcome is one that represents a step forward from an already impressive debut and one that confirms Evil among the best of its black/thrash metal contemporaries.
LP/MC: Feb-March 2021
Click here to order.
Apochryphal Revelation "Primeval Devilish Wisdom" LP Out Now
Apochryphal Revelation "Primeval Devilish Wisdom" LP
ANTI-GOTH 517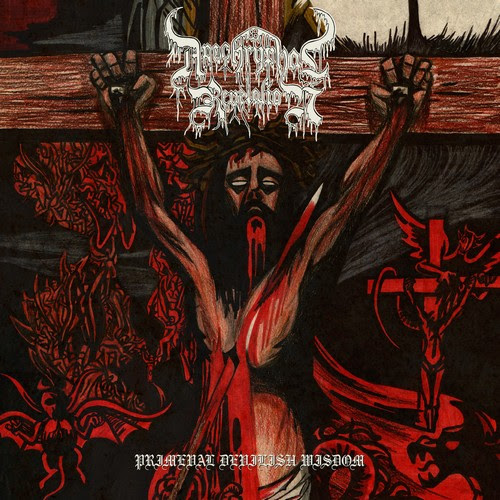 Primeval Devilish Wisdom by Apocryphal Revelation
(Description by C. Conrad)
Hailing from the improbable location of Lexington, Kentucky, Apochryphal Revelation conspires with Nuclear War Now! to release "Primeval Devilish Wisdom," the band's second album and its first recording since 2017's "Reverence for the Kings of Hell." Although the band's previous output has to a certain extent languished in obscurity, "Primeval Devilish Wisdom" succeeds in fully establishing Apochryphal Revelation's manifestation of black metal as one that is sure to draw comparisons to both that which was propagated by the old Unisound Records label roster and that of the Brazilian legends, Mystifier. These thirteen tracks, among which are interspersed several shorter instrumental hymns to darkness, achieve a potent, atmosphere-rich sound, which owes itself in equal parts to convincing songwriting, prodigious riffs, skillful leads, judicious use of keyboards, harrowing vocals, and cavernous production. The grand sum of these contributions results in a recording that is worthy of its mention with reverence towards the aforementioned greats that undoubtedly inspired it.
Click here to order.
Asgard "Demo 1997″ LP Out Now
Asgard "Cachtická Pani Hrabenka Bathory" LP
ANTI-GOTH 523
Cachtická Pani Hrabenka Bathory by Asgard
Forgotten Czech black metal demo recording from 1995, resurrected once again for maniacs of early 90′s Eastern Bloc black metal like Torr, Drakar, Amon, and Root.
Asgard "Demo 1997″ LP
ANTI-GOTH 525
Demo 1997 by Asgard
Summoned from the dark mists of Behoemia, Asgard's second demo now sees vinyl treatment for the first time ever. This overlooked demo contains six tracks of authentic black metal in the Czech tradition with powerful production. Recommended for fans of Amon, Drakar, and Torr.
Click here to order.
Xibalba "Ah Dzam Poop Ek" and "Ancients" LP/MC Coming Soon
Xibalba "Ah Dzam Poop Ek" Double LP/MC
ANTI-GOTH 062
The highly praised early 90′s Mexican black metal album will be available again on vinyl format with proper packaging. Included are all album tracks with the original mix and four extra tracks taken from their split demo with Avzhia. The layout was completely redone for this vinyl version.
Xibalba "Ancients" LP/MC
ANTI-GOTH 063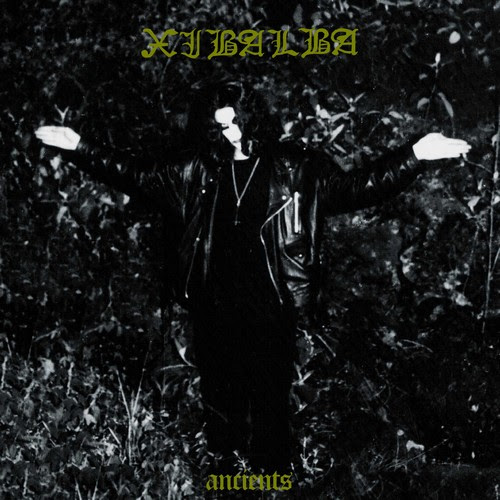 While NWN! has immense respect for and was highly influenced by much of the Black Metal output of the 1990's, very little of it still retains as much of its original allure as that created by Mexico's earliest masters, Xibalba. Those who are familiar with their only album, "Ah Dzam Poop Ek", originally released by the infamous Guttural Records in 1994, already know what to expect. This is Black Metal distilled to its most primitive essence. "Ancients" features the 1992 "In Lucescitae Tristis Hiei" demo as well as a rehearsal recording from 1994. While drawing their musical inspiration from the same sources as the Norwegian Black Metal pioneers of the early 1990's (Bathory, Hellhammer, Sodom, etc.), Xibalba turned toward the ancient traditional Mayan culture for guidance in their rejection of the Catholic plague infesting Mexico. The result is Raw Black Metal perfection similar in some ways to their contemporaries, but still distinctively Xibalba. While technically simple, Xibalba focus on chord progressions so distinctive and clear that the listener is instantly captivated. Rather than overdrive the recording with heavy distortion and a blown-out mix, the instruments are all clear and crisp thus allowing the chords and notes to blend seamlessly to produce a lush and pure and, at times, epic sound not dissimilar to Darkthrone. Furthermore, Xibalba rely heavily on rudimentary heavy rock riffs that keep the music firmly grounded in the metal traditions that originally spawned the Black Metal movement. The vocals, however, often delivered in the tongue of their Mayan ancestors, evoke a sinister hostility that summons the valiant warrior spirit of the ancients to avenge the deaths of the majestic ancient cultures at the hands of the puny and wretched christian vermin that spread through the land leaving behind their legions of weak-minded slaves.
ETA: Feb-March 2021
Beherit "The Oath of Black Blood" LP/Pic LP Out Now
Hyvää Itsenäisyyspäivää!
Beherit "The Oath of Black Blood" LP/Pic LP/CD/MC/Digital
ANTI-GOTH 500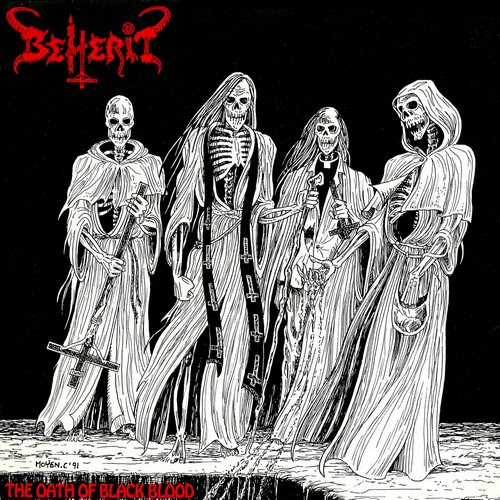 The Oath of Black Blood by Beherit
(Description by J. Campbell)
Over the last 20 years, NWN! has released or reissued some of the most important works in the style commonly referred to as bestial black death. But until now, the label has never had the privilege of working with the legendary Beherit. NWN! is honored to release this definitive reissue of "The Oath of Black Blood." Often regarded as the first Beherit album, "The Oath of Black Blood" is a compilation of Beherit's "Demonomancy" demo and the "Dawn of Satan's Millennium" EP, both of which were originally released in 1990. Beherit never intended for these recordings to be released as a compilation LP; a dispute with their label, Turbo Music, resulted in the label's unilateral decision to compile the earlier recordings rather than wait for a proper album of new material, as Beherit intended. Nevertheless, for many people, "The Oath of Black Blood" was their introduction to Beherit, causing many to assume it was recorded as a proper album. Both "Demonomancy" and "Dawn of Satan's Millennium" represent inflection points in Beherit's evolution. Just before recording "Demonomancy," Nuclear Holocausto Vengeance received a copy of Blasphemy's "Blood Upon the Altar" demo from Evil Ludo Lejeune, who was, at the time, running the Sarcófago and Blasphemy fan club. Hearing that demo was a revelatory experience for the young members of Beherit, and they immediately became possessed by the sound and sought to emulate it, though Beherit retained a distinctive element to their music. Just a few months after recording "Demonomancy," Beherit returned to the same studio (the only studio in their small home town of Rovaniemi) to record the material for their first vinyl release, the "Dawn of Satan's Millennium" EP. With that studio session, Beherit pushed beyond the influences of Blasphemy, Sarcófago, and other similar-sounding bands, achieving a darker, more atmospheric sound, featuring the use of more sophisticated intro and outro recordings, the first real appearance of Holocausto's whispered vocals, and a tighter performance than any previous Beherit recording. Beherit has shifted and evolved many times since then but, owing in large part to the 1991 release of this album, the band's legacy as one of the seminal bands of black metal's second wave remains unaltered. This new edition of "The Oath of Black Blood" commemorates 30 years since the original release of these recordings.
Also available on Tape and CD.
Click here to order.
Beherit Hooded Sweatshirts Out Now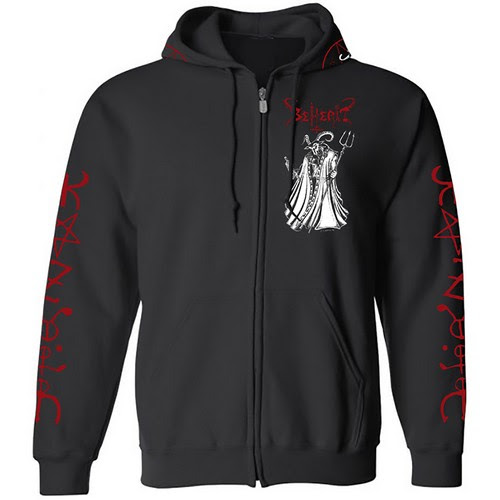 Officially licensed from Nuclear Holocausto Vengeance and designs in full cooperation with the band.
Pullover and zip-up hooded sweatshirt printed on

District brand

HSW with discharge and plastisol ink. Available in sizes Small to XXL while supply lasts. Printed by Inferno Screen Printing from NOLA.
Click here to order.