Pulverised Records

titles will be officially distributed by NWN going forward. The first batch of stuff was just added today and as they arrive.
A long-running label backed by a 25-year history of specializing in extreme music, Pulverised Records remains to be one of the most active labels with a slew of illustrious releases that the underground scene has seen and heard.
Lucifer's Hammer "Descent into Beyond…" LP/MC Coming Soon
Lucifer's Hammer "Descent into Beyond…" LP/MC
ANTI-GOTH 553
Lucifer's Hammer was a US black death metal band, active from 1986 until 2004. Part of the Michigan metal underground, they shared members with Masochist and Summon. This LP collects all the early demos as well as a live recording at Blondies in Detroit. The sound on this material showcases the band's beginnings a sinister death thrash unit, recommended for fans of Kreator, Sodom, and early Sepultura.
Side A
Descent into Beyond 1989
1 intro descent into beyond
2 exhumation
3 intro gothic cathedral
4 Outro
Tales of the Midnight Hour 1988
5. the comet
6. Gates of darkness
7. Baptized by fire
Side B:
Live at Blondies Detroit 1991
8. Morgue Slab
9. Rites of Lucifer
10. Exhumation
11. Dark undead
12. Blasphemer (sodom)
ETA: June 2021
Mystifier Essential Recordings Coming Soon on All Formats
Mystifier "Wicca" LP/CD/MC/Digital
ANTI-GOTH 543
Mystifier "Goetia" Double LP/CD/MC/Digital
ANTI-GOTH 545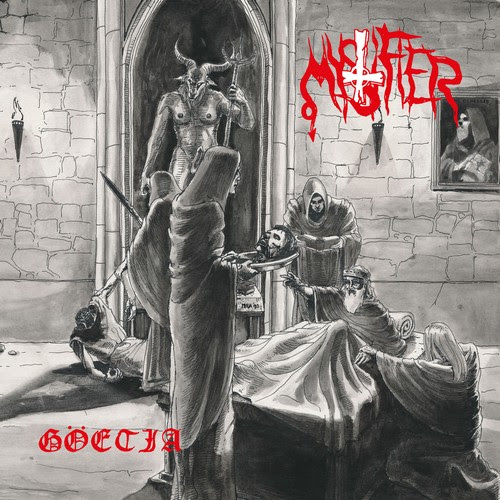 Mystifier "The Evil Ascension Returns / Tormenting the Holy Trinity" LP/CD/MC/Digital
ANTI-GOTH 546
Mystifier "Aleister Crowley" LP/CD/MC/Digital
ANTI-GOTH 547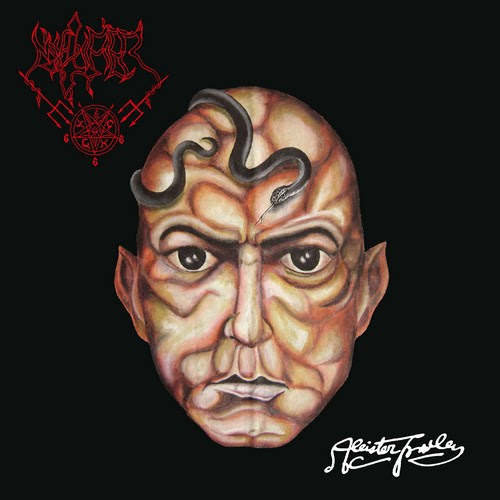 ETA: Summer 2021
Grimm "Nordisk Vinter" MLP Coming Soon
Grimm "Nordisk Vinter" MLP
ANTI-GOTH 530
The 1993 studio demo of raw, cold and obscure Norwegian Black Metal, now presented as single-sided 12″ with screen printed B-side. Released in cooperation with Neseblod Records. Grimm was a short lived side project of Carpathian Forest members and CF session member, Grimm. This is the first official vinyl edition of this cult demo.
ETA: May 2021
StarGazer "Psychic Secretions" CD Out Now
StarGazer "Psychic Secretions" CD
ANTI-GOTH 539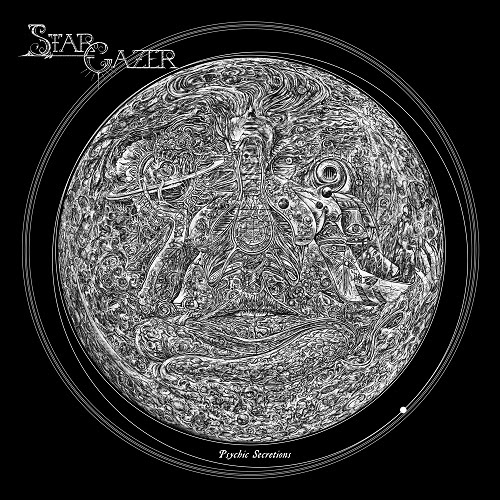 Psychic Secretions by StarGazer
(Description by J. Campbell)
After 25 years of activity, StarGazer has firmly established itself as one of the most enduring Black/Death bands in the Australian extreme metal scene. And although they have remained continuously productive during the last quarter-century, their output is sparse, owing to the band's meticulous approach to writing and recording. Consequently, the release of every StarGazer album is a momentous event. Recorded during the early stages of the Great Reset, "Psychic Secretions" is just the fourth full-length album in the StarGazer catalog and comes six years after their last album, the brilliant "A Merging to the Boundless." As guitarist and vocalist The Serpent Inquisitor explains, with every album, StarGazer tries "to produce something forward thinking without breaking our traditional sound too much, or treading on our own toes." Indeed, it is difficult, if not impossible, to identify a band with a more diverse, yet consistently impressive catalog. On this album, StarGazer embraces the more aggressive aspects of its sound, harkening back, in a sense, to the band's earlier era. But instead of the raw, bestial attack that characterized its earliest work, "Psychic Secretions" is refined and chiseled to perfection. The so-called "progressive" or "avant garde" elements that the band has folded into its sound over the years are on full display, even as the overall intensity of the songs is amplified. With the exception of the poignant lament in the first half of the monumental album-closer, "Pilgram Age," the album is primarily forceful and direct. The astonishing fretless bass work by The Great Righteous Destroyer is of particular significance. Undistorted and pushed to the forefront of the mix, it is a gilded filigree threaded through the songs. The album's composition is characteristically confounding, featuring reckless temporal shifts, idiosyncratic melodies, and the unpredictable fusion of wildly disparate riffs, all to astounding effect. "Psychic Secretions" is arguably the most fully realized StarGazer album to date, a sublime synthesis of the band's strengths. The performances are precise and tightly wound, yet the songs themselves evolve in serpentine dimensions, blurred and warped in a masterful display of some of the most spectacular songwriting in metal. The abstruse themes and compositional intricacy of StarGazer's koanlike music are such that the album demands repeated, concentrated listens before it can be adequately deciphered, and even then, it remains mystifying and obscure.
Click here to order.
Goatpenis "Decapitation Philosophy" LP/CD Out Now
Goatpenis "Decapitation Philosophy" LP/CD
ANTI-GOTH 521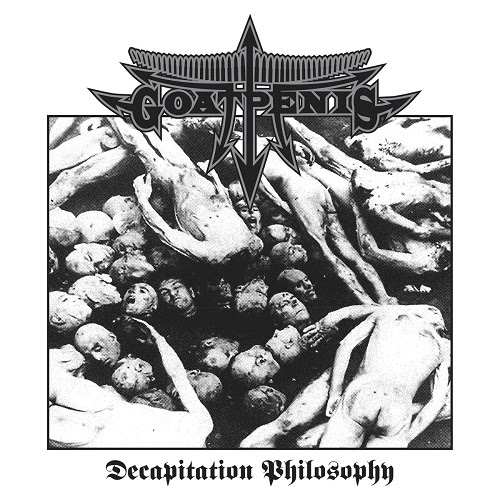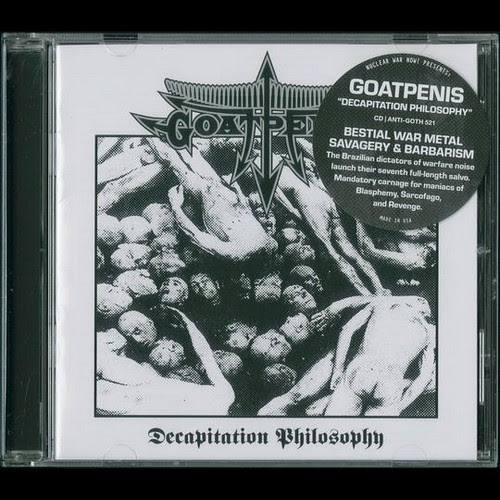 Decapitation Philosophy by Goatpenis
Goatpenis returns, once again under the unflinching banner of Nuclear War Now!, to bring forth its latest atrocity in the form of "Decapitation Philosophy," the band's seventh full-length album. Rarely is the term "war metal" used as appropriately as it is in describing the aural onslaught of Goatpenis. Unlike many bestial black metal bands to whom this label is mistakenly given, Goatpenis's militaristic essence and complete disdain for human existence are the defining characteristics of each and every release, and "Decapitation Philosophy" proudly carries on that tradition. Beginning with the call to arms of "Torrid Screaming Trumpet," and continuing through the coda that is "Inhuman Scars," Goatpenis delivers another strike of pinpoint accuracy that lays waste to the pathetic human condition.
Click here to order.
Goatpenis Demo LPs are Still available:
Goatpenis "htaeD no tabbaS" MLP
ANTI-GOTH 459
htaeD no tabbaS by Goatpenis
Goatpenis "Blessed by War" LP
ANTI-GOTH 460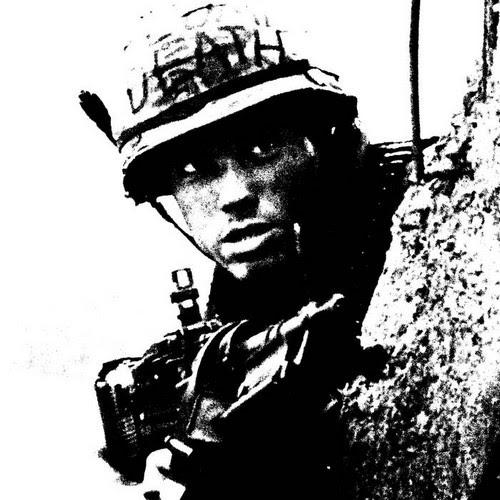 Blessed by War by Goatpenis
Goatpenis "Jesus Coward" MLP
ANTI-GOTH 461
Jesus Coward by Goatpenis
Click here to order.
Diocletian in Alliance with NWN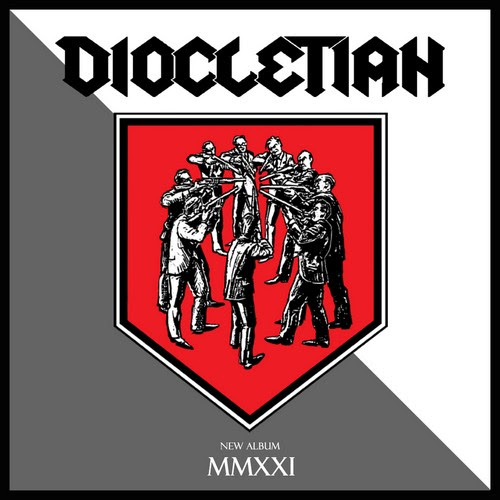 NWN! is honored to announce a new alliance with New Zealand's Diocletian. For over 15 years, Diocletian has consistently released some of the most uncompromising bestial black death metal in the world. Following the band's superb 2019 album, "Amongst the Flames of a Bvrning God," Diocletian is currently at work on their fifth full-length LP, currently scheduled for release on NWN! in 2021.
Bhleg "Ödhin" LP/CD In Stock Now
Bhleg "Ödhin" LP/CD
Ödhin by Bhleg
Inevitable, as the spreading twilight and turmoil when the blackness of winter swallows the sun, Swedish BHLEG's third full-length album "Ödhin" sweeps the world with icy winds and drowns it in the beautiful colours of the night. Enswathed in ancient Scandinavian wisdom, this blackened metal offering muses on the endtimes; the Norns' twines of fate have never resounded clearer or with more vigour.
With six epic tracks of pure channeling of forceful darkness, despair and mystery, "Ödhin" showcases both vicious outbursts of savagery, reflective moments of melancholy, and a primal strength with roots in all three worlds. With hypnotic waves of somber pathos, like the heavens coming apart and the very earth heaving and bursting aflame, BHLEG's wintry spells mesmerize us with a message as ancient as time – in the end, our fate shall come for us all.
Click here to order.
Salem "Creating Our Sins + Bonus Tracks" LP Coming Soon
Salem "Creating Our Sins + Bonus Tracks" LP
ANTI-GOTH 551
Creating Our Sins by Salem
It's a true honor for us to announce this extremely important release, having been a fan of the EP for many years and searching (without any luck) for their first two demos for over two decades. It took many years of going back and forth with the band to solidify this deal. Salem is a band that's respected by the deepest underground, but nearly forgotten by the new generation of extreme metal fans, possibly due to their unique origin of Tel-Aviv, Israel. This reissue will contain the three songs that appeared on the 1992 MLP along with 6 bonus studio tracks recorded in 1989. This will be the first vinyl reissue of Creating Our Sins and the first time that most of these bonus tracks will be released.
ETA: Summer 2021
Proclamation LPs and Boxset Out Now
Proclamation "Advent Of The Black Omen" LP/CD/MC
ANTI-GOTH 50 / COMMAND 001
Advent of the Black Omen by Proclamation
Proclamation "Messiah Of Darkness And Impurity" LP/CD/MC
ANTI-GOTH 88 / COMMAND 002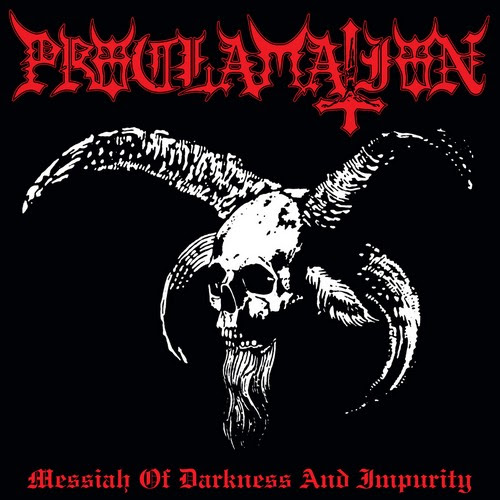 Messiah of Darkness and Impurity by Proclamation
Proclamation "Execration Of Cruel Bestiality" LP/CD/MC
ANTI-GOTH 128 / COMMAND 003
Execration of Cruel Bestiality by Proclamation
Proclamation "Nether Tombs Of Abaddon" LP/CD/MC
ANTI-GOTH 209 / COMMAND 004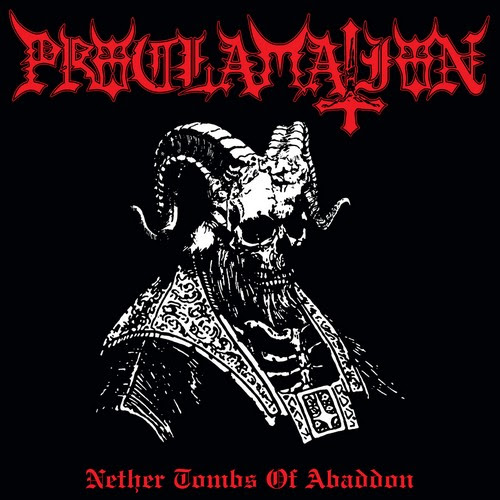 Nether Tombs of Abaddon by Proclamation
Few bands working within this subgenre have so successfully delivered such aggressive and violent onslaughts and few have remained so faithful to the blueprints established by Blasphemy, Beherit, Impurity, Sarcofago, etc. This is not a "retro" band, however. These releases easily stand alongside the classics produced by those masters. Among the seemingly endless tide of Bestial Black Death bands released each month, few can be as favorably compared to the pregenitors of the genre. Proclamation is one of the few that can. Perhaps this is because Proclamation has studied the masters so thoroughly and refuses to be influenced by anything other than the unholiest of bestial black metal. You will hear no heavy metal influence. ..no norsecore…no funthrash…instead you will be thoroughly assaulted by chaotic riffs, morbid intros, searingly violent guitar solos, and blasphemous vocals from beyond that will rape and devour your soul. Released in conspiracy with Ross Bay Cult.
Available as individual black vinyl LPs, or die hard red/black smoke vinyl 4LP Boxset.
Regular version:
-Black vinyl LP, gatefold jacket, 12″ insert, and 24″x24″ poster.
Die Hard version:
-Case-wrapped (tip-on) textured box with silver foil-stamped lid
-Red/black smoke vinyl LP
-Gatefold jacket with UV gloss varnish
-12″ insert
-24″x24″ poster of the cover art
-36″ x 52″ poster flag
-Die cast logo pin
-Vatra I Sumpor Zine #1 with the longest Proclamation interview ever done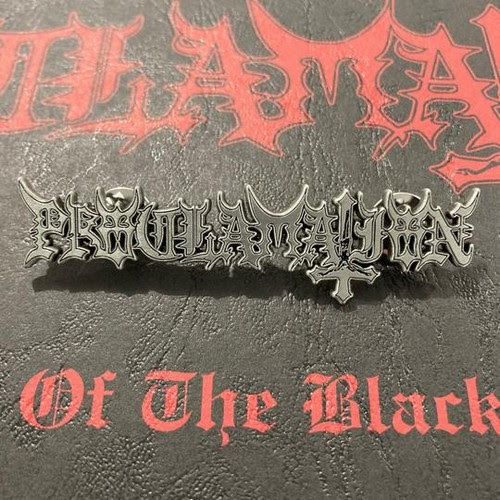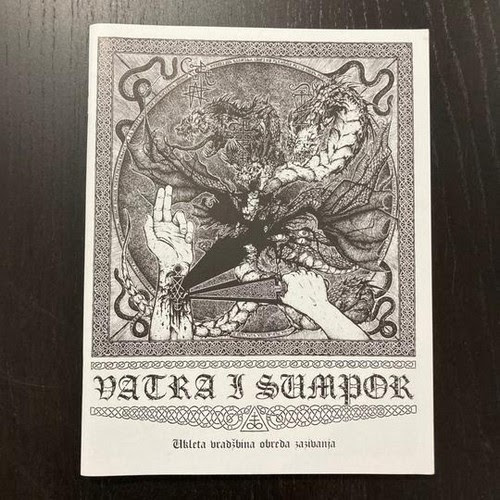 IMPORTANT DISCLOSURE: Due to an unfortunate factory error, most of the colored vinyl and some of the black vinyl Proclamation LPs arrived slightly warped. As far as we can tell based on the copied tested, the warping does not affect play. We are in communication with the factory to have this problem addressed ASAP, but nothing will be known until after the holidays. Please don't order this item if you're very picky about the cosmetics of your records.
Click here to order.