First
Revolting
pre-orders went up, and then
Depravity
(which sounds immense!) with two merch variants for the first time ever, and next up are releases from

Heads For The Dead

and the 30th year anniversary album from the mighty

Wombbath! Please have a look at some of the stuff that we'll be offering for the

Heads For The Dead

release which will go up for pre-order

THIS FRIDAY

(It's Bandcamp Friday btw) -




We received
Sepulchral Curse
and
Atræ Bilis
LPs well in advance of the shipping date and they look gorgeous. Please find here mockups with ACTUAL IMAGES of all the three LP colour variants. We're having a blast and hope this spree never ends! I'm sorry if you might find them slightly more expensive than the rest of our products but that's because we have to pay 40% tax on them as we're importing them into our country, not to mention the exorbitant shipping costs from Europe to India. We're doing our best though and offering the best kind of packaging possible. The sleeves of both these releases look great with the metallic embossing and UV lamination effects! Please pick them up before they get sold out as we can't afford to repress them and we've got other releases to put out too. Thanks and hope you like them -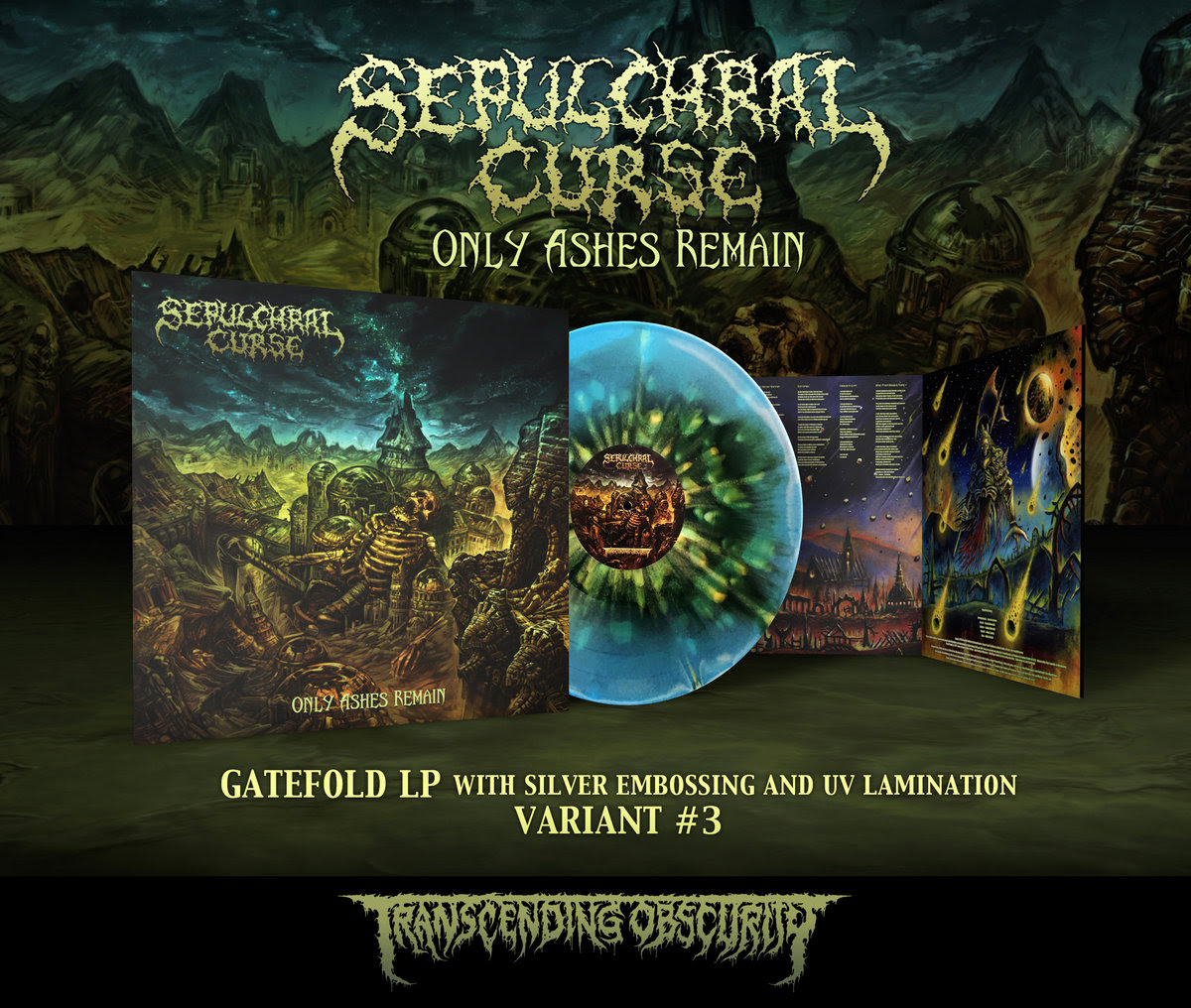 You can find them on our up-to-date
Indiemerch US Store
and of course
Bandcamp
and our
Main Store (www.tometal.com)
. We're in the process of completely updating our
Europe Store (Germany)
too so in October you'll find LPs of both these releases and also the last copies of

Live Burial

and

Jupiterian.


Please find here info about one of our biggest releases of this year -
Depravity (Australia) - 'Grand Malevolence' (December 4th, 2020)
Genre - Death Metal
Release Date - December 4th, 2020
Record Label - Transcending Obscurity Records
For fans of - Suffocation, Morbid Angel, Psycroptic, Nile, Spawn of Possession, Gorgasm, Immolation, Hour of Penance, Abysmal Torment, Decrepit Birth
After releasing a groundbreaking album in 'Evil Upheaval', Australian death metal giants

Depravity

take things to the next level on their new album 'Grand Malevolence' which is one of the most devastating albums of this year. It's technically evolved, with masterful songwriting meeting skull-smashing brutality, executed with blinding speed and power. Each song is a testament to the best expression this style holds, showcasing facets of the sub-genres without allowing it to dilute the overall intensity and momentum. There's technical death, brutal death, even progressive parts designed around the same dark and pummeling death metal

Depravity

are known for. It's a clear tour de force and it might take multiple listens for that realization to sink in, because the album is so meticulous and intense that it might be too much to grasp at one go.

Depravity

have created a masterpiece and set high standards with it not only for themselves but for the genre as a whole, eschewing concepts of stylistic differences, trends and schools, and imbibing it all to create the most lethal expression possible. Prepare to get blown away.
We've come up with FIVE gorgeous colour variants for the latest Depravity album which is one of our biggest and most awaited releases. Not only does it feature the two-panel continuous artwork of Alex Tartsus, made possible by the gatefold packaging, there's also UV embossing done on the logo and some text and has a metallic effect all over to boot. It makes for one sublime product. Please note that each of these variants are strictly limited to 75 nos. each and won't be repressed. The mockups are for representational purpose only and are likely to vary where the final product goes.


Here's the highly sought after solid wooden box for our fans of excellent box set collections. The boxes are made of high quality pine wood, have the Depravity logo laser-engraved with sharp detailing, and will be available for all five colour variants of the LP. This LP box set is limited to only 25 nos. per variant and won't be repressed. This is what you stand to get -
► Wooden box with high quality laser engraving for the logo
► Gatefold LP with metallic effect and UV embossing
► Autographed certificate
► Album artwork flag
► A3 size poster
Here's the jaw-dropping coffin-shaped solid wooden box with laser engraving of the Depravity band logo on the face. The box is made of high quality pine wood and is quite big to accommodate the massive 12-panel inverted cross-shaped digipak CD. It's definitely going to stand out in your collection. This is what you get here -

► Coffin-shaped wooden box with laser engraved logo
► 12-panel inverted cross-shaped digipak CD with metallic effect and embossing
► Autographed certificate
► Gold logo patch
► Fridge magnet
► Badge




For the first time ever, we are putting out band hoodies in two design variants! These are extra comfy cotton zipped hoodies with the logo on the front and the Alex Tartsus artwork on the back, with prints on both the sleeves. This one is specially made keeping the international size standard in mind and with a long-lasting metal zip to boot. These are only limited to 35 nos. each, and you definitely want to get your hands on them! This particular variant has the main album artwork as the big back print.


Everything about this album's cassette box set screams phenomenal! For starters, the coffin-shaped wooden box is made of high quality pine wood, and has the Depravity logo laser-engraved on it. Please note that this coffin-shaped box is different in size and aesthetics than the box for the CD. This one is made exclusively for the cassettes and the related items. This is what you get with it -

► Different sized coffin-shaped wooden box with laser-engraved logo
► Full-body print cassette
► Autographed certificate
► Fridge Magnet
► Gold logo patch
► Metallic Sticker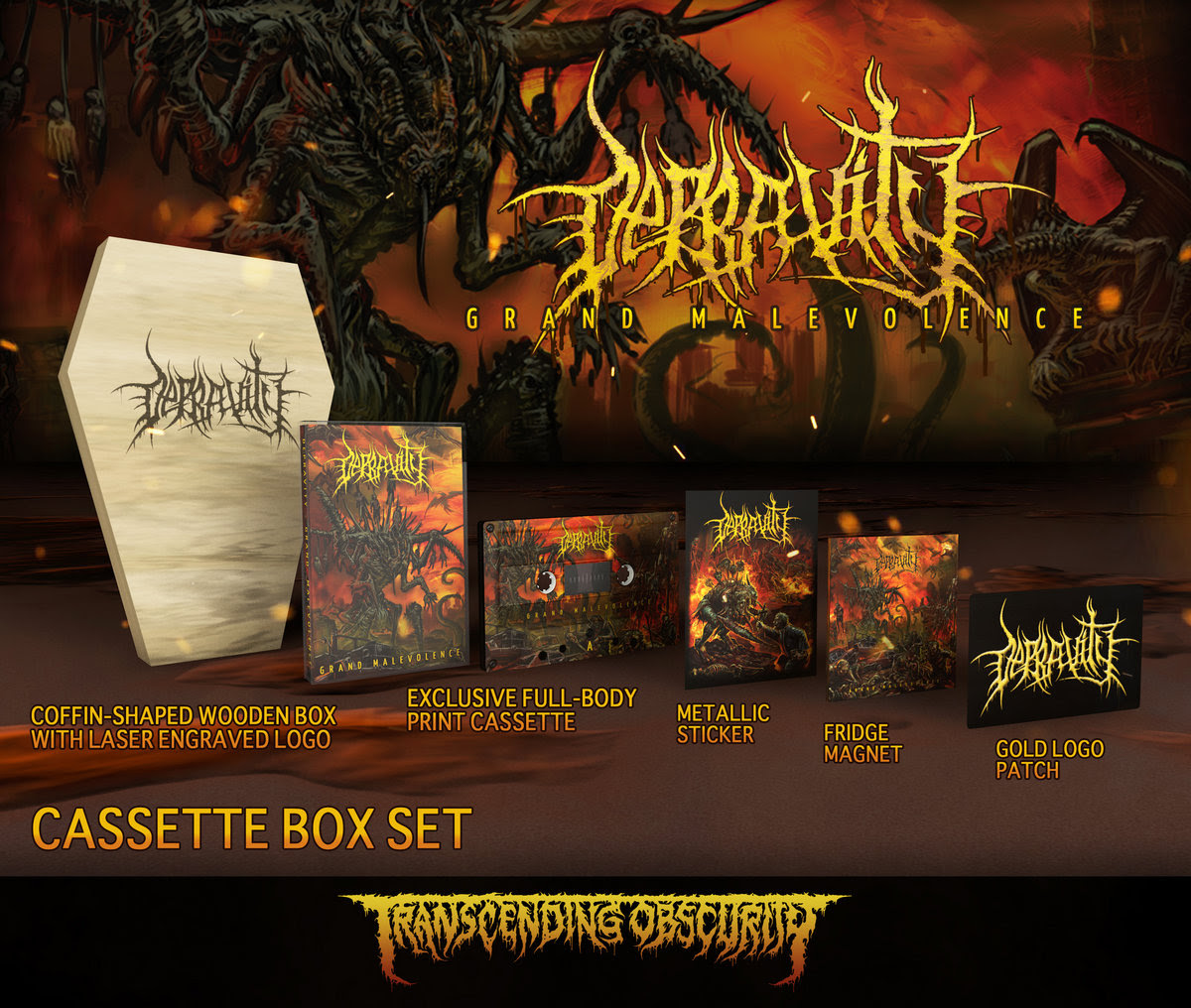 For the first time ever, we are putting out band long sleeve T-shirts in two design variants for a release! This is the long sleeve T-shirt version of the excellent design by Alex Tartsus for this band. It has full length print on both the sleeves, a massive design featured on the front and the album name on the back. It couldn't get any better than this for our first long sleeve print in two variants! This variant has the main album artwork as the big front print.
Pre-orders are now up on three of our stores, including the US Indiemerch Store. You know the links! ;)
Technical death metal fans, if you haven't yet tuned into the monstrosity of a full-length that is 'Set Forever On Me' by Italian tech death outfit
Hateful
, now is a good time to set everything aside, amp up the volume, and check out what many are calling 'tech death at it's very best'! Don't take our word for it though; read more about the band below, followed by rave reviews that have come in for the album from all over! Wish we made vinyl for this one but maybe nex time! Your support makes it all possible!
Hateful (Italy) - 'Set Forever On Me' (September 25th, 2020)
Genre - Technical Death Metal
Release Date - September 25, 2020
Record Label - Transcending Obscurity Records
For fans of - Gorguts, Immolation, Disincarnate, Cerebrum, Suffocation, Spawn of Possession, Archspire, Deeds of Flesh
Italian death metal masters

HATEFUL

have created a mind-bending album of epic proportions. They've constructed dizzying structures by piling riffs and drum patterns atop one another with delirious fervour and surgical precision. It includes elements of the early technical death metal bands like

ATHEIST,

GORGUTS,

DISINCARNATE

and

DEATH, powerful brutal coagulants such as

SUFFOCATION

and

DEEDS OF FLESH, and even the kinetic, ever-changing properties of bands like

SPAWN OF POSSESSION

and

NECROPHAGIST. There's just so much to unravel as a listener and it's a rare treat, for HATEFUL take their time fleshing out the parts and seeing to their fulfillment, rather than rushing blindly through it all without making any rhythmic sense or retaining a semblance of coherence. This is a thinking man's death metal where the core sound isn't mutated abnormally nor is the brutality mitigated and yet it incorporates intricate, highly challenging structures,

IMMOLATION-esque complexity and dissonance, and exhibits maddening dexterity and endless album replay value. Seven years in the making, Hateful's hugely awaited album complements contemporary death metal label mates in

DEPRAVITY, ATRÆ BILIS,

SEPULCHRAL CURSE

and CUTTERRED FLESH

and even technical death metal champions

CHAOS MOTION,

CEREBRUM,

COEXISTENCE

and

THE SCALAR PROCESS.
- "Hateful outclasses most of their peers" -

Metal Injection (US)




- "authentic Technical Death Metal at its best" -

Dioses del Metal (Spain)




- "one crushing release filled with technical brilliance" -

Infernal Masquerade (US) 91/100




- "this is a must" -

Rock 'N' Load (UK) 9/10




- "a juggernaut" -

No Clean Singing (US)




- "an uncompromising technical death metal tsunami" -

Deadly Storm (Czech Republic)




- "recommend it highly to all lovers of heavy music"

-

VM Underground (Netherlands)


- "A fascinating and engaging listen" -

Metal Talk (UK)


- "the band is sure to enjoy an exuberant amount of praise" -

The Metal Wanderlust (Australia)


- "a great presentation of the talent" -

Headbanger Reviews (US)


- "winding passages of spiralling riffs" -

Toilet ov Hell (US)


- "a record that acts fast but works you slowly" -

Disfactory (Italy)

These are custom-made high quality soft cotton hoodies (in a rich dark-red fabric) with a long lasting metal zipper. It comes with a beautiful full-colour album artwork print that's made by Daniele Lupidi on the back, and has the 'Hateful' band logo on the sleeves as well as in the front.
This is a gorgeous limited edition CD box set that has silver embossing done for the logos and comes packed with the following high quality items -

► 8-panel digipak CD with 16-page booklet
► Autographed card
► Silver patch
► Fridge magnet
► Badge with bottle opener
► Metallic sticker
We take special care with our digipak CD packaging, and this one has embossing done for the logos, UV lamination on special parts of the artwork and a metallic effect on the whole thing to top things off. Also includes a 16-page booklet.
These are high quality, soft cotton long sleeve T-shirts (in a rich dark-red fabric) that have a massive full colour album artwork print-designed by Daniele Lupidi.
Heads For The Dead Official Lyric Video
Depravity Video Stream
Depravity Official Video
Hateful Full Album Stream
Sepulchral Curse Full Album Stream
Atræ Bilis Official Full Album Stream