BAEST – RELEASE THIRD SINGLE "NECRO SAPIENS" + NEW OFFICIAL VIDEO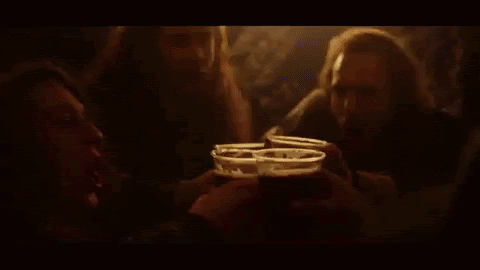 Denmarks Death-Metal powerhouse BAEST release "Necro Sapiens" the third single of their upcoming album release "Necro Sapiens" (March 5th ) accompanied by an outstanding official video-clip.

The band comments:
"Escaping the creeping death of covid-19, Baest decided to bring the audience along, to a cleansing real experience of the after/pre-show shenanigans (The truth may differ, intoxication-wise. No one remembers anymore…). Enjoy the title track video and watch some real necro sapiens in action - braindead and thriving."
Find the new official video for "Necro Sapiens" HERE
About "Necro Sapiens"
"Bred by the elite, necro sapiens roam the earth. Soulless beings dictated at the hands of the Czar. Subjects of autopsies, and Meathook Massacres for entertainment, these lifeless reprobates have only each other. They are one, they are none."
BAEST come from Aarhus in Denmark and have successfully established themselves as one of the country's most promising metal acts in recent years. While deeply rooted in straight-forward classic death metal inspired by genre legends like Dismember, Entombed, Morbid Angel, Death, and Bolt Thrower, the 2015 formed band evolved from a Danish underground phenomenon to an internationally touring act (2018 tour with Abbath, 2019 EU/UK trek with Decapitated). Also, at festivals like Summer Breeze, Copenhell, Ruhrpott Metal Meeting, Roskilde, they left audiences impressed and begging for more. After their already praised debut album "Danse Macabre" the band took it to the next level in 2019 and delivered "Venenum" where they refined their already steamroller-like signature sound.
With the expectation-bar already set so high for their next record BAEST truly drops their most anticipated and most important album so far.
The album is available in the following formats and can be pre – ordered HERE!
CD Digipak – all outlets
Black LP+CD – all outlets
Digital Album – all platforms
Glow in the dark LP+CD (limited to 500) – Official Band Shop
Pink LP+CD (limited to 100) – CM Distro (SOLD OUT)
Olive Green LP+CD (limited to 300) – CM Distro
Lilac LP+CD (limited to 200) – Metalvinyl.dk
Deep Blood Red LP + CD (limited to 200) – all Danish outlets
Tracklist:
The Forge
Genesis
Necro Sapiens
Czar
Abattoir
Goregasm
Towers of Suffocation
Purification Through Mutilation
Meathook Massacre
Sea of Vomit
CRYPTOSIS – RELEASE SINGLE & VIDEO TO "TRANSCENDENCE"

PRE – SALE FOR ALBUM "BIONIC SWARM" HAS STARTED!
Dutch Metal trio CRYPTOSIS proudly present you the official video to "Transcendence", which has been produced by Aimed & Framed.
Follow THIS LINK to watch the video!
CRYPTOSIS checked in with the following comment about the song's lyrics:
"In 2149 it is possible to purchase digital thoughts, knowledge and talents from a deceased person. The term "self investment" has shifted to a whole different kind of perspective. People can now enhance their mind to be more creative and smarter beyond their wildest dreams. This all comes at a price, since the new technology is so addictive that society can't live without it anymore. Mankind has become the host... of a parasite."
CRYPTOSIS will release their debut album "Bionic Swarm" on March 26th. The album will be available in the following formats and can be pre – ordered HERE!

CD Digipak – all outlets
Gatefold black LP+CD – all outlets
Gatefold dark green LP+CD – CM EU Onlineshop (200 LPs)
Gatefold red LP+CD – Band Shop (200 LPs)
Gatefold neon yellow LP+CD – District 19 Shop (200 LPs)
Gatefold golden LP+CD – EMP & Nuclear Blast (100/100 LPs)
Digital Album – all platforms
Track List:
Overture 2149
Decypher
Death Technology
Prospect of Immortality
Transcendence
Perpetual Motion
Conjuring the Egoist
Game of Souls
Mindscape
Flux Divergence
Reborn as forward-thinking explorers of the extreme metal cosmos, Cryptosis is what happens when metal is allowed to evolve, to expand and to breathe. An invigorating shot in the arm for the entire metal scene, it's guaranteed that their album is to be one of 2021's most talked-about debuts. Due to be released on Century Media Records, the first chapter in the Cryptosis story will have you gripped from the start.
Venom Prison signs to Century Media Records:


Garnering press-raves including: "VENOM PRISON have captured the hearts and minds of many fans of extreme music since bursting onto the scene in 2015." (Metal Hammer UK), "Nothing shy of absolutely destructive in the best way." (Revolver). And placing #4 on Kerrang!'s list of "The 50 Greatest Death Metal Bands Right Now", UK extremists VENOM PRISON are taking their next step with their new label home, Century Media.


Commenting on the signing, VENOM PRISON, who are busily writing their third full-length LP say:
"We are proud to announce that VENOM PRISON has signed with Century Media Records for a worldwide deal. This deal marks the beginning of a new chapter for VENOM PRISON and we are honoured to call Century Media our home, which we look forward sharing with some of the most iconic artists in heavy metal, as well many of our talented friends."

EYEHATEGOD signs to Century Media Records:


The quintessential Southern sludge band (Pitchfork) that Rolling Stone dubbed one of "America's great live bands", have returned to Century Media Records, with an eye towards a Spring 2021 release for the band's first album in seven years: A History of Nomadic Behavior (date TBA).



A joint statement from the band on the band and label reunion:

"EyeHateGod are pleased to announce we've signed a licensing deal with Century Media Records USA and Europe...! We welcome the new changes along with the new year coming, and want this union to benefit everyone involved, especially our rabid and disturbed fans across the globe!"